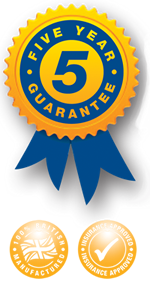 Business booms with staycations for half-term
Date: 19/10/2020
Times are very different in UK factories right now but especially in small, rural, factories such as ours here in Shropshire. The manufacturing continues however against the ongoing backdrop of Covid and orders are coming in thick and fast as caravan and motorhome sales continue to boom all over the country.
Staycations are here to stay by the looks of it, half-term bookings across the UK are high and some families have told us they are struggling to get booked onto sites for the popular week when children are off school.
It is also the case that with areas of the country in local lockdown some have had their holidays cancelled in popular resorts such as those in Wales following the announcement of the Welsh circuit breaker, resulting in so many businesses closing their doors once again.
Staying Bulldog secure
As those families who are still able to hit the road prepare to enjoy a Covid safe break within the guidelines, we are working hard to ensure their pride and joy - caravans and motorhomes - are safe.
Whether they are in storage for winter, on the driveways being packed or on site whilst you enjoy the great outdoors - they need to be Bulldog secure. Caravans and motorhomes are high value targets for thieves so make sure you do everything you can to hold on to your prized possession.
If you are preparing to travel:
● Have an additional GPS tracker fitted. Newer caravans will have a factory fitted tracker but it's good insurance to have a second in case of discovery.

● Carry a steering wheel lock for added protection of your towing vehicle or motorhome.
● Make sure you fit a wheel clamp when on site, on the driveway at home or if your caravan is in winter storage.
● Fit a hitchlock - the secure link between caravan and towing vehicle making it more difficult for thieves to make off with your caravan.
● Get wheel lock bolts fitted for additional security.
● Have the Bulldog Secure Alarm fitted - the latest and ultimate deterrent in home security is equally effective in your caravan or motorhome.
● Stay alert while loading and unloading your caravan or motorhome on the driveway or road outside your home. Leaving the vehicle unattended for even the shortest time can lead to the theft of valuable possessions packed for your holiday or the vehicle itself.
If you are not going away again this year and parking up your caravan on the driveway for any length of time, think about having security lighting installed, security posts fitted to prevent theft and chains and locks added to toughen up your security.
The same advice applies if you are putting your caravan into storage for the winter but you have the option of additional precautions in the form of shed and workshop door locks and garage and roller shutter door locks.
Whether you are heading off for a well-earned break this half-term or having to put things on hold for now and store your pride and joy, always stay alert to the threat of theft and do everything you can to minimise the risk.
If you are lucky enough to be going away, enjoy your holiday and stay safe!