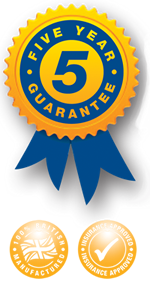 Caravans and motorhomes hitting the road from April 12 - stay safe with Bulldog!
Date: 01/04/2021
It's a great feeling! Freedom from the constraints of lockdown and the chance to get back on the road again with the much-loved motorhome or caravan - but don't let the thrill of the moment get the better of you and remember your security precautions!
It would be a real shame if the delights of being able to travel and socialise once again were cruelly crushed by becoming the victim of theft, so when you reach your destination ensure all your security measures are in place before you crack open the bubbly and meet up with friends.
Still one of the very best
Bulldog has a range of products which will help to ensure a crime-free experience and that all the valuable possessions you take with you on your trip will be making the return journey!
When you're packing for your break don't forget to include a wheelclamp or steering wheel lock for the motrohome or caravan and your hitchlock to prevent your tourer being hooked up and driven away.
Good, sensible and simple safety measures which are not only effective in preventing theft but also a valuable deterrent for thieves who are touring sites looking for an easy target.
Keeping track
Your security shopping list should also include an additional tracker which will allow you and the police to keep tabs on your pride and joy should the unthinkable happen and even alert you to any unwarranted attention through movement or tampering.
New caravans and motorhomes are fitted with a tracker these days but it really doesn't hurt to have another one fitted. Thieves often know where to look and if they find one, they may not be aware of the other.
Locked up tight
Another vital asset to your security armoury is the Bulldog Secure Alarm - a state-of-the-art system which is providing an unprecedented level of security in protecting homes - but is equally effective when installed in your caravan or motorhome.
There really is nowhere for thieves to hide with this alarm, one of our greatest creations, and one which is seeing criminals cursing their misfortune when they land on a property, caravan or motorhome protected by this unrivalled security deterrent.
We are delighted to see our many friends being able to hit the road again over the coming weeks and months. If you are venturing out make sure to take us with you and stay secure with Bulldog!