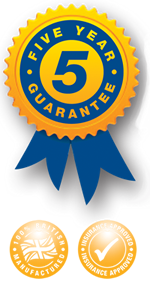 Celebrations and security as caravan sites open their gates!
Date: 06/07/2020
Caravan sites are open! Yes, we're excited about it as well!
Everyone must be so pleased to be able to hit the road again with their caravan or motorhome - but a word of caution. Don't let the excitement of the occasion override safety and security!
Be alert and stay secure
Before you set off, don't forget the hitchlock, the wheelclamp or steering wheel lock for the caravan or motorhome and remember the Bulldog mantra - get an additional tracker fitted.
People get so excited every time they go out for a short break, their week-long holiday or even a tour of the UK that they can sometimes get complacent! This can apply equally to Covid-19 and security, with both needing the focus of our full attention.
Yes, Covid-19 is still out there so make sure you are washing your hands and not bringing any germs back to your beloved caravan or motorhome and ensure you follow the Government guidance to avoid a potential resurgence of the virus.
As for security, it's a sad but undeniable fact that thieves are still in action, so don't make things easy for them and ensure your security is as tight as you can possibly make it.
During lockdown we have been watching reports of rural crime, caravans and motorhomes being stolen, thefts of trailers and tractors. Many of these could have been prevented - or at least made more difficult for the thieves.
Time and deterrent are everything
If Thieves believe it is going to take longer than the time they have to get the prized possession then they will move on to the next target. Let's be honest, which would you choose to steal - a caravan with a wheel lock, hitchlock, alarm and tracker or one without any of these invaluable security devices fitted. Easy pickings - that's what we would go for and we can be sure the thieves would, too!
So time and deterrent - remember those two factors each and every time you pull up:
● Outside your house to load - A popular time for thieves to strike
● On the campsite - Yes, you may plan to be there 'most' of the time but you won't be there throughout your stay and thieves still strike on site
● When you arrive back at storage - After a lovely break you may be feeling a little tired and rushed to get the kids home to bed, but don't be fooled. Don't think you will pop back the next day to put the security products on! It could be the most expensive 12 hours of your life!
It's great to have the freedom to hit the road again but be safe, be secure and enjoy your break!