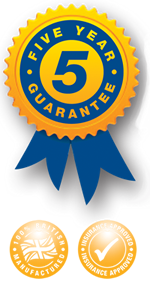 Did you know equestrian safety is another one of our expertise?
Date: 24/06/2021
Isn't it great to see the country opening up again? Giving us the chance to get out and about to holiday fairly freely around the country - but while you're following our advice on caravan and motorhome security, don't forget what may be going on at home in your absence.
The team at Bulldog Security Products is committed to protecting you in all areas of security and one of the things that often tends to dip under the radar is equestrian security.
On your guard
We live in a beautiful part of the country but the rural nature of our surroundings mean we are more susceptible to the attention of thieves. The tranquil environment which we crave is also an attraction for thieves, providing an ideal environment for them to carry out their criminal activity with relative impunity.
Horses and equestrian equipment are much sought after and can be easy targets unless you remain on your guard and keep security up to standard. So:
● Chain and secure everything you can and for the things you can't, lock items away in secured buildings.
● Make sure vehicles are tracked and that they, and other equipment, are immobilised and keys are not left in the ignition.
● Have bars fitted to outbuilding windows where equipment is stored, like a tack room.
● Install alarms as added protection - did you know we have a separate alarm website?
● Install security lighting and CCTV.
Other substantial deterrents which can be fitted easily and inexpensively include:
● Security posts.
● Hitchlock.
● Saddle security.
● Steering lock.
● Wheel clamp.
Access to farms and stables should be kept to a minimum, keep gates locked and ensure perimeter walls, fences and hedges are in a good state of repair. Stable owners should microchip or freeze-mark horses and keep horse passports locked away securely at a location away from the horse.
There are many things you can use to help you ensure your property and livestock remain secure. For more information about equestrian security, give us a call on 01952 728171.