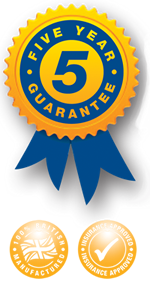 Don't let lockdown easing benefit burglars
Date: 21/08/2020
The gradual easing of lockdown has come as a great relief to all of us who were confined for so long - including thieves!
Our homes are our sanctuary and great places to be but the constraints of lockdown created a great deal of strain and being allowed to return to some sort of normality has been eagerly accepted and greatly appreciated.
Thieves have, by and large, also been in confinement with crime figures dropping across the country during lockdown but as restrictions have gradually lifted these figures have been increasing once again - so it's time to reappraise your security arrangements to ensure you aren't caught out!
Home improvements
Many people have been using the last three months to get all those little jobs done around the home that kept being put off, but toughening up home security probably didn't feature as high a priority as spring cleaning, painting and decorating. So we are asking you to please think about it now!
Did you know that a home with no security measures in place is five times more likely to be burgled than one with even the most basic of safety precautions? So, with less time being spent at home, you will want to make sure:
● Doors and windows have strong locks fitted and are in good working order
● Garages, workshops, sheds and other outbuildings are properly secured
● Your home is protected by security lighting, CCTV and an alarm system
● Any vehicle is locked while not in use and keys kept somewhere safe and away from the front door
It's also worth remembering the need to stay alert to callers with an increase in the number of conmen making the rounds looking to either get into your home by way of a distraction burglary or to persuade you to part with your valuable personal information like bank account details.
There are a number of ways you can protect yourself and your home: Set up a doorbell with a camera that is linked to your phone which allows you to see who's about even if you are not there. It also saves the recording for a period of time in case you need to identify a criminal.
A home alarm system is not only a visible deterrent but also the best way of preventing a burglary and keeping your home secure while Security lighting adds an extra layer of protection which lights up any unwanted callers, often scaring away the thief before they have had a chance to take anything.
Some of the simplest but still the most effective security precautions are Chains and padlocks - tough options which along with Garage/roller shutter door locks and Shed and workshop door locks remain among the most tried and tested methods to keep the thief at bay.
For more information, telephone the Bulldog team on 01952 728171.