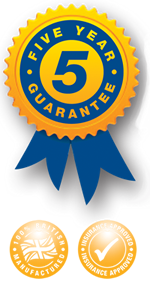 Easy ways to improve personal security
Date: 17/07/2019
Personal security can be something that is often underestimated with not enough care and consideration being given until it may be too late!
Things to think about here are your personal security in the home, online or when you're out and about. It pays to give the subject some forethought to maintain a level of security which will hopefully keep you and your information safe from attack.
We have put together 10 points which we hope will help you when it comes to ensuring your safety:
● Always be aware: On the understanding that prevention is better than cure, think about what the criminal wants and their ideal set of circumstances for getting it. Don't make life easy for them, make them work hard to find a way of getting what they want. Always think about what you are doing and saying, where and how you are travelling and who you are inviting into your trusted confidence.
● Don't put yourself in harm's way: Being out and about is a large part of day-to-day life but there are a number of precautions you can take to increase your safety. Keep away from areas you know to be risky, particularly at night, make sure there are people milling around, travel with a trusted friend where possible, keep to well-lit areas - preferably where there are CCTV cameras and don't wear headphones with the noise levels making it impossible to hear someone approaching. Carry a safety alarm which is in good working order, easy to reach and activate.
● Meetings fraught with danger: Be wary of first-time meetings and try to ensure they take place in the open with other people about. Tell someone where you are going and when you are likely to return. Always phone to make sure they know you are back safe and well. Avoid situations which could leave you trapped or difficult to find a way out of.
● Look after yourself: Learning self-defence can be an asset, or consider getting a dog. Simple steps that can be hugely beneficial and there are few better deterrents than walking with a dog and having one guarding the house!
● Be sure of your taxi: Always use a taxi or licensed private hire vehicle and never flag down cars cruising around looking for fares. Unless it's a proper black cab taxi, this is illegal anyway. Get the details of the car and driver off the firm when booking and make sure you confirm these details when the cab turns up. Many firms now use an app for booking and will send car and driver details to your mobile phone ahead of the pick-up.
● Beware of the skimmer and the scammer: People using cash machines have been vulnerable for some time, so when drawing out cash make sure you give the machine the once over and if anything looks dodgy or been added, like a device or camera, notify someone in the premises of your concerns.
● Staying safe at home: There are a range of security measures to ensure your home is secure, which we have dealt with in previous blogs, but the issue of personal security at home is a vitally important one. Keep windows, doors and access from an attached garage locked to prevent an intruder from getting in. Door chain locks are popular but remember they may be compromised fairly easily. Bolts are a good idea for added security as are exterior security lighting, cameras and alarms.
● Keep it vague: If travelling on business or away on holiday, enter an address on your GPS, smartphone or other device which is in the area of your home but not your home address. You don't want your phone pinched and the thief or an accomplice taking advantage of your absence. It is also a good idea to set up a remote wipe option on your phone so sensitive information can be deleted should the phone be stolen
● The power of social media: Personal security isn't just about protection against violence or physical theft. Facebook is a great way of keeping in touch with your friends but don't post all your personal information for the world to see. It is so easy for an identity to be stolen and always remember the jig-saw effect, where information can be pieced together from different sources.
● Internet, cold calls and fraudsters: There are some particularly clever and manipulative people out there just waiting for the chance to hack your computer or press you into providing vital information about banks, pensions and so on when they have you on the phone or the doorstep. Never give out vital details and always beware of incoming telephone calls.
For more information about personal security, including the use of the latest GPS tracking technology, phone us on 01952 728171.