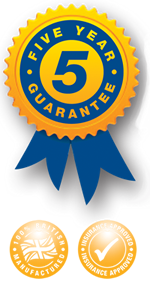 Have you booked your caravan site? The UK is the place to stay!
Date: 06/07/2021
The summer holidays are upon us and what a difference they promise to be compared to last year!
While some are eyeing trips to sunnier climes, many caravanners and motorhome owners are opting to stay local, viewing the UK as the ideal and safer option for their summer break.
There are some great holiday destinations in the UK - something we tend to take for granted and they probably remain a better alternative with the vagaries of foreign travel due to the pandemic still being felt. So, have you booked yours yet?
Don't be a victim of theft
We want you to enjoy your holiday and remember it for all the right reasons, which is why we are taking this opportunity to remind you once again of the need to stay safe and secure while away and pack some extras with your luggage to help you achieve this:
● The Bulldog Secure Alarm is the very latest deterrent in home security but did you know that it is equally effective in protecting your caravan or motorhome while you are away? It's a market leader for a reason, it's easy to fit and operate and comes with an unequalled range of quality features.
● Tracking options must be another consideration when planning your trip. They can be fitted to your vehicle . . . and your loved ones, which will ensure you know where the things and people you most value are at all times and that you will be alerted if anything untoward happens.
● Fitting a hitchlock will prevent the uncoupling of your caravan - making it more difficult for your pride and joy to be stolen.
● Wheel clamps are another effective way of ensuring your vehicle stays where you left it!
● And remember our security posts when you get back home and park up on your drive. A simple, easy-to-fit, obstacle which can be easily installed and is an excellent deterrent to thieves.
Getting away on holiday is all about having a relaxing, stress-free, break. This will be easier to achieve if your security is on the top line. We hope the recommendations we have made will help you protect your family and property and that you have a great holiday!