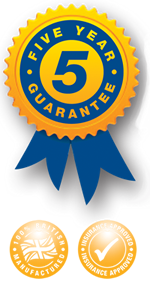 How do I ensure my construction site is secure?
Date: 23/09/2019
Construction sites can be an Aladdin's cave for criminals with so much valuable equipment often being left unattended overnight, a huge draw for thieves eager to make the most of 'easy pickings'.
With heavy equipment, tools, materials and vehicles needed on-site, it isn't practical to move it all away to a more secured location only to bring it back again the following morning for work to recommence.
But thefts from construction sites have always been, and will continue to be, a major problem with companies, individuals and insurers often paying a heavy price for losing out to criminal activity. Replacing stolen items is costly, inconvenient and can seriously hamper the success of the projects being worked on.
Awareness of the situation is key, followed by basic steps that should be taken to ensure your property and construction site remains secure. Here are seven tips to help you achieve this:
● Put a plan in place: Walk the site and get to know where the vulnerabilities are. You can do this yourself or get an expert to advise on the best way of putting tight security into operation. Remember to continually monitor and upgrade when necessary as the site develops and evolves. You and your staff will also need to know what to do when an incident is occurring or has happened. Make sure you know how you are going to respond by going through the various scenarios of anything that might happen.
● Know what you've got and where it is: Keep a regular inventory of tools and equipment and where it is kept. This way it will be easier to establish if and when something has been stolen. It is also important to mark all equipment in some way so it is easily identifiable and more likely to be returned if taken.
● Secure the perimeter: Make sure you have a secured perimeter fence and gate, making it more difficult for intruders to break in and get items out. Try and keep the area inside and outside of the fencing as clear as possible so items can not be used as an aid to getting over the fence. Seek advice on the best type of fence and always ensure regular checks are maintained to see there have been no breaches. On the subject of gates, always try whenever possible to have one entry/exit point. It's easier to police.
● Be careful who you let in: Put a signing in signing out policy in place so you know who is coming on-site and why. Make sure visitors are accompanied as unattended people can pose security and safety concerns. Encouraging a staff badge system is also a good idea and try to ensure as few vehicles as possible are allowed in the compound. Having parking facilities for staff and visitors outside the site will mean fewer options for making off with items and minimise potential risks of damage to vehicles.
● Enlist some help: Install cameras, locks chains and anything else you can think of to prevent entry to the site. Cameras and motion sensors are relatively cheap to buy and getting simpler to install. The last thing the criminal wants is to be caught on camera. CCTV can be linked to somewhere someone can respond very quickly. There are also audio devices available which can be used to scare off the offender when their presence is detected. You could consider the old-fashioned but still very effective deterrent of employing a guard and or dog to patrol the site.
● Lock it or lose it: Lock up your equipment when it isn't in use and immobilise vehicles. Park plant equipment in an area which is as secured and 'fenced in' as possible. This can mean parking in a spot where the vehicle is wedged in and physically impossible to be driven away. Fix all plant equipment with trackers and ensure areas where materials and equipment are stored are well lit.
● Get your staff on board: It's in everyone's interests to make sure the construction site is safe and secure. Make sure staff are aware of the dangers of criminal activity and that they take the necessary steps to help you beat the thief. It's a team effort and always remember prevention is better than cure. After all, the theft of vital equipment and materials won't just hit the company it could have serious implications on jobs. Have a security policy and see it's regularly monitored and updated and that everyone knows about it.
Vandalism and theft are major headaches for those involved in setting up and maintaining construction sites. The other equally important consideration is health and safety on-site. Thinking ahead and trying to cater for any eventuality is essential to any preventive action you deem necessary.
For more information on how Bulldog Security Products could help you, call our team on 01952 728171.