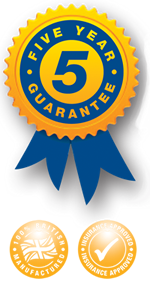 How Secure Is Your HGV?
Date: 12/09/2018
GPS trackers are proving to be an important weapon in the fight against crime and more people are turning to the hi-tec low maintenance option as a reliable way of tracking and getting your vehicle back if it is stolen.
The theft of any vehicle is distressing, probably costly and certainly an inconvenience you could do without, but if you are in business and have your lorry or trailer taken these problems are magnified.
Our TR35 magnetic tracker for lorries doesn't need any power from the vehicle to operate, has up to a four-year standby time from just one charge and is easily attached to any metal object by two high-powered magnets.
We have been supplying trackers for the cab for some time; however we are now urging people to buy one for the trailer too as thieves are targeting both aspects of the articulated vehicle. It is also the case that having a second tracker fitted on any vehicle can be a great advantage.
The TR35 is manufactured from ABS and is lP66 rated for use in the harshest of environments. It can tell you through our TR03 tracking platform where the vehicle is, its mileage, speed and travel time.
It is compact and the internal antenna means it can be hidden virtually anywhere on the tracked vehicle. It is simple and effective and requires no additional SIM cards, wires or gadgets to operate.
You can keep track through a smartphone app or a PC allowing you to receive push notifications and alerts if the vehicle is moved.
Installing tracking devices is becoming the norm and is certainly a sensible, simple, thing you can do to combat the thief. It gives peace of mind in knowing your vehicle is where it should be or, in the case of theft, a location where it can be retrieved from.
The Kingpin Lock is another way of securing your vehicle, preventing the coupling of the trailer to the tractor unit. This is another simple, effective, device designed to make life more difficult for the thief.
Whatever measures you take to safeguard your property are well worth the effort and if you can't ultimately prevent a theft you can at least ensure you are giving yourself the best chance of getting it back.

For more information on these products call our team on 01952 728171 or email sales@bulldogsecure.com