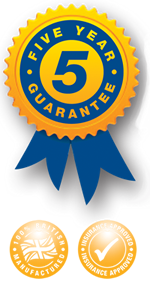 New Bulldog bike lock launched as cycling fever sweeps across the UK
Date: 09/06/2021
Let us introduce you to our new bike chain lock system - the latest in a long and impressive line of high quality security products in the UK-manufactured and designed Bulldog Security Products range.
Bikes are an expensive item these days and extremely vulnerable to theft. They are often left lying around, either outside or in insecure buildings, which can act as an open invitation to thieves - which is why we turned our attention to manufacturing a high-spec product in the Bulldog mould.
Hitting the road
The launch of our new lock comes as the country continues it's path to unlocking after more than 12 months of on-off lockdowns and cycling fever sweeps across the country - a situation helped by longer days and, hopefully, much improved weather.
It seems like more and more people are turning to cycling as a great means of exercise and an ideal way of exploring our wonderful country - particularly as many will be choosing to stay in the UK this year as an alternative to the ongoing uncertainties of foreign travel.
All of which means it's imperative to protect your bike. After all, what's the point in splashing out on a new bike if you don't take the steps to keep it safe from criminals?
And it's not for just when you are out and about - lock it up in your garage, shed or anywhere it is! It takes seconds to steal a bike.
The product
The Bulldog Security Products Bike Chain Lock System includes a wall mounted bicycle hook and comes with all the toughened security features you would expect from us - a product designed to be the ultimate bike theft deterrent. The lock has:
● A 1.5 metre British made alloy steel chain which, unlike other products, will not become brittle after case hardening.
● Case hardened links which provide added security against cutting and cropping.
● A ground anchor and security fasteners
● A stainless steel padlock.
The lock comes with a bicycle hook as part of a package, which:
● Is made of heavy duty pressed steel
● Holds bicycles up to 20kg in weight
● Is corrosion resistant.
We are proud of the Bulldog Security Products Bike Chain Lock System - our latest offering in the ongoing fight against crime. We are committed to providing tough robust products which protect you and your property while making the commission of theft as difficult as possible for the criminal.
Contact us today to order your bike lock by calling 01952 728171 or emailing sales@bulldogsecure.com