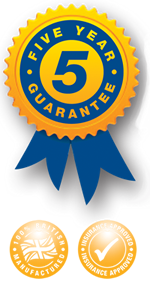 Rural crime battle is getting harder
Date: 21/08/2020
A new and worrying report has highlighted the £54m cost of rural crime across the UK last year - a 9% increase on 2018.
The report by rural insurer NFU Mutual appeared in the Shropshire Star and paints a disturbing picture of agricultural vehicle and livestock thefts with farms being targeted more and more by organised criminal gangs.
It reveals high value farm machinery, such as tractors, are being targeted to supply an overseas market, while smaller, easier to transport equipment like quad bikes remain an attractive option for thieves - all of which serves as a timely reminder to toughen up your security.
The figures
The report focussed on 2019 and compared it to 2018 figures. It revealed:
Rural crime cost Shropshire £1.4m - up 14.8% on 2018
UK agricultural vehicle thefts cost £9.3m - an increase of £1.9m
Quad bike thefts cost £3.1m - up £500k
Total quad bike and all-terrain vehicle thefts rose by 21%
Land Rover Defender thefts rose 34%
Rural crime rose in every region and each nation of the UK
There is no doubt that very well organised gangs are behind much of the criminal activity and are seeing rural locations, particularly farms, as easy targets with high value tractors and quad bikes ranking at the very top of the shopping list.
Thieves are also targeting high-cost tractor GPS equipment which is becoming more widely used to aid day-to-day farming operations and are particularly in demand abroad.
The increase in rural crime is being combated by police with West Mercia and Dyfed-Powys forces linking up in cross-border patrols cooperation - a high visibility presence aimed at reducing the threat and acting as a deterrent to thieves.
A recent operation involved the South Shropshire Safer Neighbourhood Policing Team around the south of our county and was hailed as being extremely successful.
We know it's difficult to ensure equipment is kept secure at all times, size often precludes it from being kept inside while the isolation of many farms only aids the covert operations of thieves. But there are still steps you can and should take.
Where possible, always keep equipment locked and housed in secure buildings, install CCTV and security lighting, ensure walls and gates around your property are robust and well maintained and fit trackers to all agricultural equipment and all-terrain vehicles.
Our team at Bulldog can help, advise and support you with all your security requirements. For more information, call us on 01952 728171.