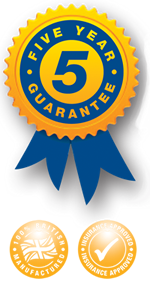 Rural Crime Is On The Rise
Date: 06/08/2018
There's just no getting away from it - rural crime is on the rise and it's becoming a real battle to stay one step ahead of the criminal in an effort to keep your property safe.
A recent report commissioned by insurers revealed a 13.4% crime increase in villages and small communities in the last eight years with the cost of the rural crimewave hitting a staggering £44.5m in 2017.
These areas are becoming more isolated as policing cuts continue to take their toll and there is little sign of that ending as forces are faced with making further savings and having to prioritise where they concentrate their efforts.
Rural locations are an obvious target for the criminal and that is why we must take the necessary steps to keep our property secure.
As the evenings start to draw in and autumn looms on the distant horizon we thought it would be a good idea to focus on rural buildings security and some of the things you can do to tighten things up ahead of the darker nights.
Farms are a veritable treasure trove for the criminal with vehicles, equipment and livestock. Make sure your animals are tagged and equipment is marked and it's a good idea to keep a file or register of all your property, with a detailed description and photograph.
Lock away anything that isn't chained down and secure or immobilise equipment or vehicles so they can't be driven off or used. Also ensure all keys are locked away in a secure spot in the house to further deter a thief.
Restrict access to your property by installing locked gates and make sure your hedges, walls and other fences are sturdy enough to make it extremely difficult for the criminal.
Here at Bulldog we have a range of products that can help you keep your property secure. We have a variety of chains you may like to consider, our high security door lock for sheds and workshops, security posts and roller shutter door locks.
Make sure all your vehicles are tracked, your buildings are alarmed, fitted with security lighting and that you consider installing CCTV.
In addition, always remain alert and keep track of who is coming and going, seek crime prevention advice and check to see if you are in an area covered by Neighbourhood or Farm Watch.
Most of the advice is pretty much common sense but it can be easy to let your guard slip and that could prove to be a very costly mistake.
For more information about our products or for advice on how we can help you stay secure, call our team on 01952 728171.