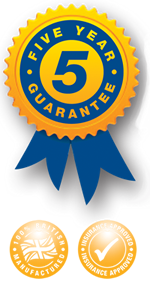 Seasonal pitch? You still need your security!
Date: 08/02/2021
Come on - the sun will soon be shining, more people will have been vaccinated and restrictions will have eased. We just need to stay positive and think of the holidays!
It's that time of year when we usually allow ourselves to start thinking about better weather, brighter times and a holiday break. At the moment the break may still seem some way off as we continue to battle through the pandemic but there is light at the end of the tunnel
We know many of you love your caravan, which may be on a seasonal pitch here in the beautiful Shropshire countryside - were you able to get away between the November lockdown and lockdown 3? Or have you been unable to get there since the October half-term?
Whatever the circumstances we are sure that, like us, you can't wait to get back out to your pride and joy and spend some quality free time in your caravan with your loved ones. But remember, while our caravans will be waiting for us when lockdown 3 ends, thieves won't be adhering to lockdown rules so make sure yours is safe.
A timely reminder
As you look forward to the year ahead, now is the ideal time to review your caravan security and make sure it is as tight as possible. Caravans are tempting targets for thieves and are often left unattended for long periods with valuable possessions inside. Thieves know this and are only too eager to cash in on what they believe are easy pickings, so don't do anything to encourage them.
Some of the steps to consider are:
● Security lighting - a great deterrent which will alert others on the site to any activity around your caravan
● Cameras - there are a number of cameras available which will keep an eye on your caravan for you
● Alarm - the Bulldog Secure Alarm is leading the way when it comes to home security and is equally effective in securing your caravan. Its cutting edge technology is second-to-none in protecting your property and alerting you to any threatening criminal activity
● Sturdy chains and padlocks - still the most simple but effective way of securing your caravan and any storage units you may have to house those valuable possessions you need while on your break.
● Wheel clamps are a must of course.
● Security posts give that added obstacle.
● Don't forget the Bulldog hitch lock.
Our team at Bulldog has been advising, helping and supporting customers for many years - providing a comprehensive range of products which continue to be the strongest and toughest deterrent across the full range of security requirements. For more about how we can help you, call us on 01952 728171.