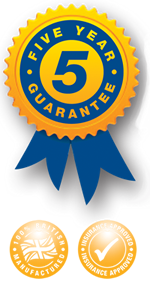 Spares, support and advice- it's all here
Date: 02/11/2018
We are proud of our reputation as a global leader in providing quality products, making us highly regarded and the go-to company when the issue of security arises - but did you know we also provide an extensive programme of spares and support?
Our interest in our client doesn't begin and end with the sale and delivery of our products. We have nearly 35 years experience behind us as a company, the majority of our staff have been with us for the long-term and built up an unrivalled knowledge which we are more than happy to share with you.
There is always a need for security and while things change, the fundamental message is the same today as it was when we started back in 1984 - take the simple steps to ensure your property and your family are safe.
It all starts with an enquiry about our products, some customers know what they want while others seek advice on what best suits their particular needs.
We are able to draw on that vast experience by advising on what is likely to work best and how individuals, businesses and other organisations can tighten up security at home, the office, on the farm and with their vehicles. Remember, whatever it is you've got, there is always something you can do to secure it!
Our products are always manufactured to the highests specifications and with the toughest of materials to ensure strength, longevity, security and peace of mind.
Continuous use and general wear and tear of moving parts can lead to the need for some of these parts being replaced while the essence and integrity of the product remains intact.
Bulldog has a wide range of spares for wheel clamps, security posts, stabilisers, hitchlocks and lock bolts that will keep you operating at optimum security efficiency. Having chosen Bulldog, you will also be reassured to know we have an in-depth support service where you can contact us through our website or via the telephone and get the help you need instantly. This service is particularly helpful with the setting up and running of our many tracking devices - a tremendous asset to the world of security in the 21st Century. We also provide a service in supplying a spare or replacement key to your Bulldog product.
We know how easy it can be to mislay keys and we take a lot of calls from customers asking about replacements - rest assured, it's not a problem, and we can offer a quick and efficient service in replacing your lost keys.
We are always keen to receive feedback from customers as this helps us to keep our products and service in the premier league of security companies. When you choose Bulldog you know you have the best and that we are there with you for the journey.
For advice on any of our products, phone our team on 01952 728171.