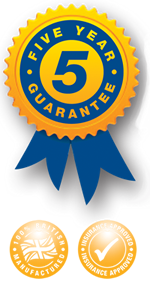 Spike in sales as younger families turning to caravans
Date: 12/06/2020
The country is beginning to move again and it's encouraging to see a spike in sales reported as more younger families turn to caravanning.
It's great news after nearly three months of lockdown, providing a tremendous boost for sales of British new and used caravans, for dealers all over the country and for the wider economy as more people opt to holiday in the UK.
The situation was highlighted on national TV when presenter Alison Hammond visited Burton Caravan Centre for This Morning for a feature about how caravanning and glamping could save our summer holidays.
You can find your local Bulldog Security Products caravan dealer using our dealer search https://www.bulldogsecure.com/content/29/dealer-locator
Getting back on the road
The centre reopened on May 11 to deal with caravan sales and enquiries with staff saying the interest in buying caravans "has never looked so good".
This positive coverage for the industry courtesy of the bright, bubbly and forever optimistic TV presenter really couldn't have come at a better time with the normally busy period for early spring sales having been severely affected by the Covid-19 crisis.
Staff at Burton say they have also seen a spike in younger families buying caravans, which clearly indicates planning not only for later this year, as restrictions continue to ease, but also for the more long-term future.
No one needs to convince us about the merits of caravanning. Yes, there is the initial expense of buying a caravan, but when that is done there are years of relatively inexpensive holidays to be had - an important factor to consider when comparing prices for future holidays abroad.
The cost of holidaying outside the country is likely to rise as restrictions are eased and there is also the issue of having to self isolate for two weeks on your return.
It's also vital that we support British industry at this time as firms face the prospect of dealing with the financial implications of lockdown for a very long time. Makers of British caravans and dealerships all over the country are in need of our support during these difficult times.
If you are thinking about buying a caravan for the first time, there are a few things to remember:
- Do your research property
- Visit a reputable dealer
- Seek instructions so you know how everything works
- Make sure you have SECURE it! So many people bring their pride and joy home - just for a few nights - before they take it into storage and it is during those few nights when thieves hit. Find out what security measures you need here.
- Don't forget the tracker too! For peace of mind you will need to know where your caravan or motorhome is and you can simply check your phone with our easy trackers.
The options really are endless when you have your own caravan - as more and more people clearly are planning to discover.