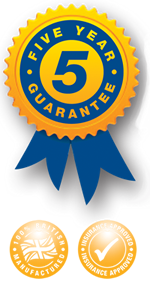 Plant equipment and trailers are tempting targets
Date: 24/01/2019
Thefts of plant equipment and trailers are reaching staggering proportions with many thieves viewing these costly items as low-risk, high-gain ventures.
By the very nature of their use these items are generally left unattended overnight and in the most lonely of rural locations - making them really tempting targets.
It's costing the UK construction industry about £800m each year, with some £100m of that figure directly attributable to theft and vandalism and the remainder the cost incurred through hire of replacement equipment, the cost of buying new, increased insurance costs and the resulting loss in business.
Thieves will take just about anything but are particularly keen on excavators, dumper trucks, forklift trucks, compressors, scaffolding and anything else with a high metal value. They have even been known to steal cranes!
When you factor in the more general agricultural stuff that goes missing like trailers, tractors and quad bikes, then the vulnerability of these types of items and the high cost involved to those who own them goes through the roof.
There was a case shortly before Christmas of a trailer containing £30,000 worth of furniture and £5,000 of steel rope being stolen just across the Shropshire border in Stone. A lorry tractor unit was driven to an isolated farm, the trailer was hooked up and driven away a short time later.
And last September plant equipment worth £80,000, including a three tonne digger and two large metal trailers were taken in a raid in Nottinghamshire.
We know these types of theft are more appealing to the criminal because equipment can be poorly secured and targeted during the hours of darkness when there is less likelihood of anyone being about. But it doesn't always follow!
Allied to trailer thefts are thefts of cargo, where lorries and trailers are targeted for what's on board. The latest available figures show quarter two last year saw an estimated £14m worth of cargo thefts in the UK - up £1m on quarter one.
There are measures you can take to secure your plant equipment and trailers, including security marking your property, employing an extensive range of strong locks, security posts and ground anchors. Fit an alarm and tracker and paint your postcode on the roof when possible so your property can be easily spotted from the air.
Make sure you immobilise vehicles whenever you can, don't leave keys in the ignition and if you can't lock items away then at least ensure they are left blocked-in somehow making it difficult for them to be driven, loaded or towed away.
For advice on how Bulldog can help keep your plant equipment and trailers safe, call our friendly team on 01952 728171.