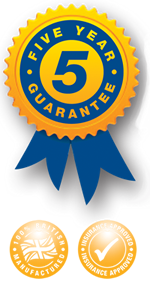 Company Profile
The first Bulldog Products were launched in 1984 by company founders Mr and Mrs A Jordan. Tinkering in his garden shed he designed and constructed his first caravan stabiliser. From this he went on to build another 25, convinced that other caravanners would be interested in this product too... he was right! Now 36 years on and with our pro-active approach to innovation the Bulldog brand is stronger than ever. We are proud to manufacture from our own premises here in Much Wenlock and source all our products here in the UK, enabling us to maintain a high level of quality and service. Whilst meeting the demands to those important to us.. the Customer. The Bulldog product range spans all areas including Leisure, Commercial, Domestic and many more.
Meet Some Of Our Team



Ian Jordan- Managing Director

The eldest son of the founder of the business, Ian has been with Bulldog all of his working life, starting in the workshop and now leading the business with his wife Yvonne. Ian ensures that the company runs smoothly on a daily basis enabling Bulldog to achieve its mission and objectives to its full potential.



Yvonne Jordan - Company Secretary

Married to the MD Ian Jordan, Yvonne has been with the company for over 25 years. Aswell as leading the business with her husband, Yvonne also looks after the daily accounts and admin.



Neil Jordan- Director

Neil is also the son of the founder of the company and has also been with Bulldog

all of his working life.

With his hands on approach Neil is responsible

for the day to day

running of the factory,

over seeing

production and ensuring all high standards are met.












Chris Speke - Engineering Director

An experienced engineer, he is repsonsible for the design of our new products. Chris joined the company some 15 years ago and has known the Jordan family since boyhood.



Carole Toon- Sales & Admin Co-ordinator

Carole is the first point of call when you telephone or email the office and her many years of experience with Bulldog products ensure that you get the best advice and service.


Lucy Bates - Marketing Assistant

Lucy is the grand- daughter of the founder of the company,

she is learning the ropes in all aspects of the marketing department.

Lucy is responsible for the leaflet design, product videos, photography,

updating the

website and social media.








Nigel Detton- Robot Technician

Bulldogs longest serving employee Nigel joined the company from the outset and together with Ian and company founder Ray Jordan, helped build the business to what it is today.
Alan Jervis - Production Technician

Alan has been with the company for 19 years and he knows the products inside and out.

Alan is responsible for the day to day production of components produced

from the laser cutting and CNC press brake machines.