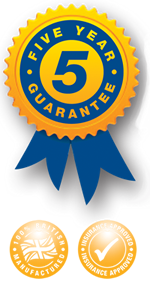 BIRTHDAY BLOG
Date: 20/03/2023
We are so proud that Bulldog Security Products has reached its 39th year! It all started in 1984 when Ray & Mavis Jordan launched their first Bulldog Product after Ray designed and constructed his first caravan stabiliser in the garden shed. He was convinced that other caravanners would be interested in buying one after several discussions on the dangers of towing a caravan so, he went on to build another 25...and how right he was. His idea was so successful that he formed his own company and set up shop in a Nissen hut in Bridgnorth later moving to Much Wenlock in 1988.
Originally known as Leisure Craft the Jordans decided to change the business name to Bulldog Security Products.. a nod to Winston Churchill and his nickname "British Bulldog" a man who Ray has always admired.
Many happy years continued and the business grew along with their family. Ray & Mavis may have stepped aside now for their children and grandchildren to continue working and improving the business but, 39 years on they are so proud that the Bulldog brand is growing stronger than ever thanks to the dedication of the whole Jordan family and their close-knit team.
Managing Director Ian is the eldest son of the founders and has been with Bulldog all of his working life. He started in the workshop and is now leading the business with his wife and Company Secretary Yvonne and Director brother Neil. Grandchildren Andy and Lucy are also involved to ensure that the company runs smoothly on a daily basis enabling Bulldog to achieve its mission and objectives to its full potential. The family are backed by a very loyal team with an average service length of 30+ years... amazing considering the staff turnover of most companies these days
As you may have guessed, Bulldog are very proud to be a family run British company. We manufacture from our own premises in Much Wenlock, England and source all of our products here in the UK. This enables us to maintain the highest level of quality and service and support other British businesses. Bulldog products are highly sought after in the UK but also export to many destinations all over the world.
The Bulldog product range spans all areas including Leisure, Commercial, Domestic and with three specialist websites for Security Products, GPS Trackers and Home Alarms we have everything covered.
www.bulldogsecure.com
www.bulldogtracking.co.uk
www.bulldogsecurealarm.com