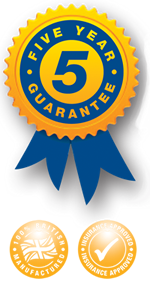 Bulldog BMX sponsorship deal agreed for a third year - by managing director Ian Jordan
Date: 14/02/2022
I am delighted to reveal that we have agreed to extend our sponsorship of the Bulldog BMX Racing team for a third year - a season which promises so much with all three of the team's current riders qualifying for the BMX World Championships in France in July.
It was a decision which didn't take long to make after the on-track success of 2021 and I am also pleased to announce that we will actually be expanding the team this season. We are delighted to announce Aaron Corfield, 16, from the Isle of Man will be joining the team and proudly flying the Bulldog flag. He will be juggling travel, racing and his GCSE exams too! Good luck Aaron!
Aaron is no stranger to the Bulldog team as he is a cousin of team member Sophie and was the one who inspired Sophie to start BMX!
With the 2020 season virtually wiped out because of Covid, it was terrific to see BMX racing return last year (2021), albeit with a shorter season than normal and I am sure that our continued sponsorship will come as good news for all of you who follow our team's journey on Facebook.
National series
Despite the pandemic the Bulldog BMX Racing team of Eddie and Archie Smallman and Sophie Kynaston competed in every round of the 2021 British BMX Series and turned in some really memorable performances. The Smallman boys moved to the Birmingham BMX Club during the course of the season and Sophie ended the year as Wrekin Riders BMX Club's Rider of the Year.
They were all great ambassadors for Bulldog Security Products and the plan is now to attract more riders to wear the Bulldog colours this season. I will be bringing you more news on this over the coming weeks, so watch this space!
The highlight of the year will undoubtedly be the BMX World Championships in France this summer and we wish the team well - but there's a lot of racing to be completed before then and I can't wait for the new season to get under way.
I am still an avid mountain bike competitor and remain as passionate as ever about promoting and supporting sporting endeavour whenever possible, which is why it was so important for Bulldog as a company to continue the sponsorship of our BMX team. Community clubs and organisations need the support of businesses now more than ever in what are extremely difficult times.
A timely reminder
With the start of a new BMX season now only weeks away before riders and their families hit the road, I thought it would be a good time to issue a general reminder about security and the steps you can take to keep your property and family safe when you are away from home.
It's important that those of you who have caravans and motorhomes are aware of the security implications and remember to take Bulldog Security Products away with you to keep the thieves at bay.
Some of the measures you can take are basic but effective measures like the steering wheel lock and the wheel clamp while our state-of-the-art trackers are the ideal option for protecting vehicles and people. On the subject of bikes, you may be unaware of our new bike chain lock system and wall mounted bicycle hook which is helping to keep bikes secure at home.
Good luck Team Bulldog!
Aaron Corfield from The Isle of Man who has joined Bulldog BMX Racing team. He is joining his cousin Sophie Kynaston (pictured) and Eddie and Archie Smallman