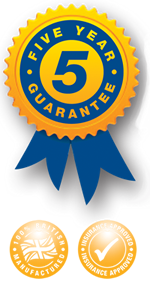 Bulldog MD tracked as he hits the hills on his mountain bike
Date: 23/05/2022
There's nothing our managing director Ian Jordan enjoys more than riding his mountain bike, kitted out with his Bulldog BMX Racing team top and a Bulldog TR99 tracker - an essential piece of equipment for staying safe when out and about on your own.
The colourful racing strip has become a regular feature at BMX tracks across the UK and Europe with the five members of our team once again enjoying a successful season with some impressive results, and we are eagerly anticipating the World Championships in Nantes, France, in July when four of the team will be taking part.
Dangers of being isolated
Ian is an avid bike enthusiast and spends a lot of time out on his own, but is only too aware of the dangers of riding alone in isolated areas - which is why he always packs the TR99 tracker before setting out.
The TR99 is small, light and can be fitted into your pocket or rucksack, which is why it is the GPS tracker of choice for anyone participating in adventure sports, skiing, cycling, kite surfing, jet skiing or simply out walking. It is also essential equipment for lone workers and the elderly, because accidents can happen anywhere and at any time.
It's shockproof and waterproof and lives up to its reputation of being a 'security and safety buddy'. It has a built-in SOS phone alert and 'man-down' feature which automatically senses a fall and then instigates a call for help through a series of preset numbers to provide full GPS coordinates of the user so a rescue can be mounted.
You're never alone
The TR99 effectively thinks for itself and has three modes of communication and monitoring:
● Through the internet or smartphone app.
● By sending an SMS with important alerts and information and tracker location with integrated Google Map links.
● Can make and receive calls.
It means you have all the bases covered and are as well prepared as you can be if something unforeseen happens which could pose a risk to health and safety. The TR99 is the ideal accessory and provides the ultimate reassurance - whether that be for yourself, your children or an elderly family member.