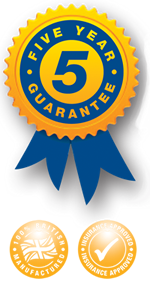 Clocks change and darker nights - time to step up your home, shed and garage security!
Date: 20/09/2021
It doesn't seem that long since we were talking about the clocks changing in March, does it? But here we are looking at the onset of autumn, the clocks going back and darker nights which are such an ally to thieves.
The clocks will be changing at the end of October and that's our cue to remind you about your home security and steps you can take to ensure your family and possessions remain safe from the unwanted attention of criminals.
A good time to act
There are a number of things you can do to enhance your security at home, but don't forget the garage and shed - all tempting targets containing valuable items which need to be protected.
As always, the team at Bulldog is ready, willing and able to meet your security requirements with some of the toughest products on the market, top quality items guaranteed to make life just that bit harder for the thief. They include:
● The Bulldog Secure Alarm - A professional alarm of the highest quality which YOU can install yourself in under an hour. It has a range of features which makes it a market leader in home protection.

● Chains - We supply a range of chains which can be anchored to the floor or walls to help you secure your property while preventing theft. Our robust chains are also beneficial in securing gates at your premises.

● Shed and workshop door locks - A high security option suitable for double doors, gates, storage containers and sliding doors.

● Security posts - A simple but effective device which can be installed easily in front of a vehicle parked on your drive or to 'block' garage and shed doors to deter equipment being stolen.

● Security lighting - Still the best way of lighting up a potential crime scene, while illumination remains one of the biggest fears for thieves.

● Garage and roller shutter door locks - Specifically designed to keep your garage or roller shutter doors locked and preventing access.

● Fuel tank lock - An excellent device to prevent your heating oil being stolen.

● Skip locks - The ideal deterrent to the theft of skips.

● GPS Tracking - A range of tracking options to protect your home, vehicles, property and family.
It's easy to become complacent when it comes to home security but the consequences can be severe - the cost of the items stolen, valued possessions which are special to you and the distressing circumstances of having your personal places breached by home invaders. Taking security precautions can be simple, effective and save all the emotional heartache associated with burglary and theft. Give us a call today on 01952 728171 to find out how we can help you.