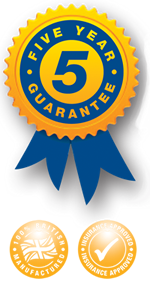 Don't fall victim to Christmas thieves - stay secure with Bulldog Security Products
Date: 18/11/2021
We've said it before and we'll say it again! Don't be a victim of Christmas-time thieves!
It has to be THE MOST VULNERABLE TIME OF THE YEAR in terms of theft with everyone buying presents and ferrying them about before hoarding them on the lead up to the big day at homes which are often insecure - making them prime targets for the criminal.
Keep your guard up and stay on the alert
It's easy to forget just how much you have invested in Christmas presents, not to mention all the other things in your home which are valuable to you and your family in terms of both cost and emotional attachment. Things you cherish which can be gone in an instant if you drop your guard and relax your security mindset for even the shortest periods of time.
There are basic precautions you can take with respect to crime prevention - particularly at this festive time but the principals apply to any time of the year:
● Don't leave deliveries on your doorstep for all to see.
● Don't advertise your Christmas shopping on social media.
● Don't let slip the all-important information about when you won't be at home.
● Don't leave your sheds, garages and porches insecure.
A time for giving
Christmas is a wonderful time and while you are thinking about what gifts you are planning to give family and friends, it's worth taking a moment to also CONSIDER THE VALUE OF SPENDING A LITTLE MONEY ON YOUR HOME SECURITY.
We have some of the toughest products on the market, manufactured to the highest quality and items which just might make thieves think twice about targeting your property. They include:
● The Bulldog Secure Alarm - The ultimate deterrent in home security and one of the very best products on the market. It has a variety of features, all painstakingly designed to keep your home and family safe and secure. It has the additional benefit of being an alarm you can fit yourself in under an hour.

● Security lighting - A great way of letting you know when someone's about and still strikes fear of discovery into the hearts of criminals.

● Garage and roller shutter door locks - The ideal option for keeping your garage or roller shutter doors locked, preventing access.

● Chains - Our comprehensive range of chains can be anchored to the floor or walls, easily securing your property and preventing theft. This simple but effective product is also ideal for securing gates.

● Workshop and shed door locks - A valuable contribution to your security arrangements when it comes to gates, double doors, sliding doors and storage containers.

● Security posts - Can be installed quickly and easily in front of a parked vehicle or garage and shed doors to prevent valuable equipment being stolen.

● Fuel tank lock - A simple device to thwart heating oil theft.

● GPS Tracking - A range of tracking options which will not only protect your home, vehicles and other property, but also vulnerable family members.