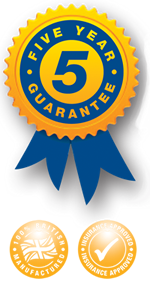 Easy ways to improve your vehicle security
Date: 24/06/2019
Vehicles and their contents are easy prey for criminals and most people have a very cavalier attitude towards security which only adds to the problem.
Being aware of the dangers and taking some simple precautions could be enough to deter a thief and keep your property safe. It's all about getting into the right mindset and making sure you do whatever you can to prevent the crime from happening.
To help you, we have put together seven top tips we hope will stand you in good stead when your thinking of how best you can improve your vehicle security:
1. The key to the situation: Make sure your vehicle is locked and windows and sunroofs are closed. If using a key fob for automatic locking, make sure all the doors and boot are secured as sometimes a fault may occur where one door fails to lock. Don't leave your vehicle open while unattended and don't leave the keys in the ignition or the engine running when there is no one with the vehicle.
Be careful where you put your keys at home. Don't leave them near open windows, close to the letterbox or your front door unlocked or open. Also, be aware of 'Relay Attack'. The latest method of car theft where two thieves working in tandem use electronic signal relay devices to open the car. One uses a device to receive the key signal from inside the house and transfers it to a second box by the car, making the car 'think' the key has been operated. This system can't work if keys are left in a metal box, safe or signal blocking wallet.
2. Where do I park?: Your vehicle is at much greater risk of theft when it's unattended so it pays to give some thought to where you leave it, particularly overnight. Always ensure doors and windows are locked, garage it where possible - ensuring the garage is also secure, or use a secured car park facility which you know is covered by cameras, a parking attendant or a ticket exit barrier.
If none of these options are available and you are leaving your vehicle on the street, try to ensure it is outside your home where you can keep an eye on it, always leave it in a well lit and well used area - thieves would much prefer to operate in areas where there are as few people around as possible. And seek out areas where CCTV cameras are installed if you can.
3. Toughen up on security: Adding extra layers of security is always going to make the theft of your vehicle that little more difficult - and could also result in cheaper insurance premiums! Visible deterrents are good, the thief may be put off and move on to another, easier target. Things to consider here are steering locks, wheel locks, immobiliser, car alarm and security posts.
Immobilisers have been fitted as standard on UK cars since 1998 but if you have an older model, get one fitted. Newer cars also have a car alarm but the same principle applies here. There are still a lot of cars on the road that won't have an alarm fitted. Security posts are ideal if you can't garage your vehicle, 'wedging' it into a confined area which prevents it being driven away. Posts can also be used as added security in front of garage doors.
4. Keep documents at home: It may seem like the sensible thing to do to keep your logbook and service records with your vehicle but it can make the car easier to sell on after a theft and could also increase the risk of identity fraud. It's also extremely important not to keep other personalised documents in the vehicle - such as bank statements, insurance certificates, driving licence or personal letters - for the same reason. Criminals don't require much information to steal your identity.
5. Keep valuables out of sight: You're going to carry some pretty valuable stuff around with you when driving, whether it's connected to work or just the day-to-day tasks that are part of today's life, but keep it shut away in the boot or glove compartment.
Remember, it's not just your car the thief wants. Handbags, jackets, money, laptops, briefcases, CDs, mobile phones, dash cams and sat navs are all attractive items to the thief so keep them out of sight, away from the vehicle where possible or consider a secure safe that can be fitted in the boot.
6. Stay alert on the move: Most of the time your vehicle and valuables are going to be targeted when you're not about but that isn't always the case. We have seen an increase in carjackings in recent times and instances where people have been robbed while stationary or in slow moving traffic. Always keep your wits about you and doors and windows locked to prevent the robber getting at you in the vehicle.
7. Keeping track of your property: Trackers are extremely effective in preventing theft or enabling the recovery of a vehicle if it is stolen. It alerts you to any unauthorised activity and allows you to know exactly where the vehicle is at all times by sending data to your phone or other mobile device. Many new vehicles have trackers fitted but it never hurts to add a second one. It also pays to get one fitted if you have an older vehicle. They are quick, easy to fit and provide the peace of mind in knowing your vehicle is safe.
Much of this advice is common sense but in highlighting the dangers we hope we have encouraged greater awareness of the steps you can take to minimise the risk of theft. Bulldog has many security devices to help keep your property safe.
The Bulldog trackers that we would reccomend for enhanced vehicle security include:
● The BulldogOne GPS Tracker is our latest feature-packed and smallest GPS tracker.
● It includes everything you need from a tracking service.
● With easy connection options you can install it in no time.
● Install it in your car, motorhome, caravan, motorbike or quadbike.
● View tracker live location.
● Receive push notifications direct to your phone.
You name it, the BulldogOne is exceptionally versatile and easy to fit.
● Track your vehicle and fleet.
● Utilises your OBD (on board diagnostics) socket.
● Pro-active device with real time tracking.
● Driver behaviour & compliance monitoring.
● Simple plug in installation.
● Can be easily moved from vehicle to vehicle.
● View tracker live location.
● Receive push notifications direct to your phone.
● Keep track of your vehicle.
● IP67 water resistant
● Multiple alarms to regulate driving behaviour
● Remote vehicle fuel power cut off alarm.
● Ignition ON/OFF alerts.
● View tracker live location
● Receive push notifications direct to your phone
Our full range of trackers can be viewed on our tracking website.
Give us a call on 01952 728171 to find out what we can do for you.