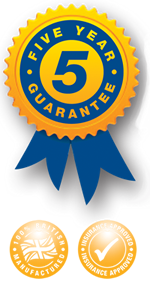 Farm raid highlights vulnerability of the countryside
Date: 23/09/2022
We are extremely lucky to live in an area with a great expanse of idyllic countryside, quiet isolated places away from the hurly burly of town and big city life - but the very things that make the countryside desirable to us also make them an attractive option for thieves.
Despite the groups that have been set up to prevent and tackle rural crime, these areas remain vulnerable with opportunist thieves and well organised gangs on the lookout for easy targets, particularly farms with their array of tools and other equipment featuring highly on the criminal wish list.
In the news
There was a recent item on ITV Central News which highlighted a raid on a farm straddling the Worcestershire/Gloucestershire border. A gang of four men were caught on security cameras wandering around parts of the farm after midnight as if they worked there.
The result was a stolen vehicle and thousands of pounds worth of tools and equipment taken. As well as the inconvenience of losing much of the means to carry out their day-to-day working life on the farm, the family were left devastated and worried about what might have happened if the gang had been confronted.
Another farm was targeted nearby on the same night by what was believed to be the same thieves and it was reported that other farms in the area had also been visited by thieves at various times.
Valuable items
Tractors and quad bikes are attractive targets for criminals, including high-cost tractor GPS equipment which is widely used on many farms. It is difficult to cover all the options on farms due to the scale of the property but precautions should be taken to minimise the risk.
We know police are pro-active regarding rural crime, various watch groups have been set up, there is a sharing of intelligence with cross-border partnerships and patrols creating a high visibility presence, but there are other things to consider as well.
Where possible, always keep equipment locked and housed in secure buildings, install CCTV and security lighting, ensure walls and gates around your property are robust and well maintained and fit trackers to all agricultural equipment and all-terrain vehicles.
Prevention is better than cure and if thieves are roaming the countryside looking for easy targets, make sure you have done all you can to protect your property - avoiding the cost and distress of being a victim of rural crime.