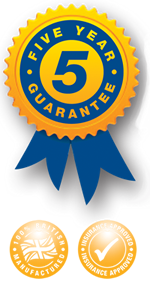 Getting those jobs done at home
Date: 19/05/2020
It can be difficult finding enough things to remain occupied during the long days of lockdown - but here's a thought. Why not focus on securing your property and get all those jobs done that you've been meaning to do but haven't gotten around to?

The high-speed hustle and bustle of 'normal' life often means security is put on the back burner for another day - but life is far from normal right now which provides a great opportunity to ensure the home, garage, shed and any other outbuildings you may have can be locked up securely.

And good, tight security doesn't have to cost a fortune. Simple precautions with quality products are extremely efficient, and cost-effective, particularly when you think of the consequences of having your valued possessions stolen.

Security options
- Chains and padlocks - Sheds, garages and other outbuildings contain all those personal possessions you can't or don't want to keep in the house. They can be easy targets for thieves, protected generally by only the flimsiest of security measures. There are a range of chains, security locks and chains with padlocks which can be most effective in securing these outbuildings and keeping your property safe.
- Garage/roller shutter door locks - Secured to the ground, an additional layer of security which makes it difficult for the thief to access the garage. Difficult is good when it comes to a deterrent as the thief often gives up after seeing these tougher than normal measures in place and heads off to look for an easier target.
- Security posts - A marvellous device which can be installed simply in front of doors making it impossible to remove the larger items like mowers, quad bikes and machinery from garages, sheds and other outbuildings. The posts can be unlocked and removed easily by the property owner. Security posts are also ideal for 'wedging' a vehicle between post and a wall if no garage is available and it has to be kept in an open area outside the home.
- Shed and workshop door lock - A high security double lock and another hugely effective deterrent when used to secure gates, sliding doors and double doors. It is also the security device of choice if you are looking to secure storage containers.
- Security lighting - Thieves always like to avoid the spotlight and that is why we always advise people to consider installing lighting as an essential addition to their security. Lighting is operated by sensors so as well as alerting you to something untoward going on, it is also pretty successful at scaring off the thief. Lighting can be installed to cover all areas of the garden, outbuildings and shed locations, in addition to helping to protect your home.