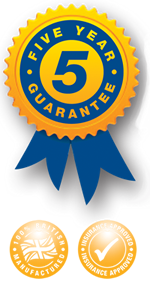 Home improvements or extensions? - be sure to include the Bulldog Alarm!
Date: 26/03/2021
Posh new garden room, home office, gym or man cave? Many people will be in the process of improving or extending their home but we hope you haven't forgotten the all-important optional extra - a home alarm!
There seems little point going to the trouble of spending all that time and expense on getting your home the way you want it with all the things you've worked so hard for if you don't intend to protect them adequately.
The overall value of things in your home will surprise you - people are rarely aware of what it would cost to replace treasured items if they are stolen or destroyed. Just take a moment to look around and have a quick tot-up in a couple of rooms. We think you'll be amazed!
An effective alarm system
There are a number of good, reliable, home alarm systems on the market but before looking elsewhere we would like you to think about what we consider to be best - the Buldog Secure Alarm.
You can fit it yourself in under an hour, which seriously cuts down on installation costs, and quite simply provides everything you would expect from an industry leading home alarm system. It even allows you to zone the inside and outside of your home so you will be instantly alerted - wherever you are - to which area triggered the alarm. The alarm also:
● Has two-way wireless technology, linking to a smartphone app, sending pictures to you and the police of what set the alarm off and where and when.
● Allows you to add extra sensors for blanket coverage of your home, with no blind spots.
● Has highly efficient audible alarm and 'sounders' for increased protection.
● Comes with smoke and heat detectors.
● Has the advantage of no expensive services cost or rental contracts.
Other benefits
The app offers a quick, easy and efficient way of sending alerts directly to your phone and the alarm provides the flexibility of remote access, has flood alert sensors and is pet friendly - recognising the movement of your pet around the home and successfully distinguishing it from criminal activity.
Sensors can also be added to essential parts of the home such as medicine cabinets, fridge and food cupboards which can act as a warning if an elderly or otherwise vulnerable person doesn't open these doors for any length of time.
The fully remote access feature allows us to be able to reset the alarm or deal with any technical issues that may arise without the need of a visit. The Bulldog Secure Alarm is just the thing you've been looking for to keep your home, family and possessions safe. For more information, call our team on 01952 728171.