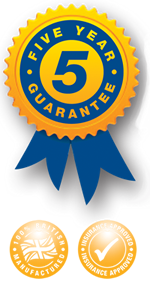 Home security: Don't forget garage door locks, shed and workshop locks and security lighting
Date: 03/11/2022
We go to great lengths to secure our homes - so it's a pity that most of us don't apply the same logic when it comes to protecting our sheds, garages and workshops!
It's understandable - the team at Bulldog Security Products understand. The majority of our valued possessions are scattered around our homes and even the most cursory of assessments in value is enough to make us sweat in trepidation at the loss involved in having these treasured items whisked away through criminal activity.
Think security
Your home is of course also the place where you keep the most important thing in your life, your family, which only adds to the necessity of keeping your home as safe and secure as possible to ensure their safety at all times.
But just think for a moment about the other areas of your property which are deserving of a similar degree of protection. Sheds and workshops are places to store important items away from the ravages of the weather, but also double up as locations to keep things away from the gaze of prying criminal eyes and potential theft.
The Metropolitan Police say the five most valuable items kept in sheds and workshops are:
● Lawnmowers
● Garden tools
● Sports equipment
● Bikes
● Power tools
Racking up the value
There are of course many other things that are shut away in these 'out buildings', all of which rack up the pound signs when you stop and consider a cumulative value. Then, there is your garage. It probably contains the second most valuable inanimate item you will ever own - your car, which is why security here is also of such paramount importance.
The clocks have gone back for another year, how quickly that comes around, and darker nights are a formidable ally to the criminal. It means the thief can roam with relative impunity, stalking valuable prey before pouncing on unsuspecting premises and making off with their ill-gotten gains.
It's time to stop them
The tragedy in all this is that it is so easy to take the necessary precautions to prevent this happening. We have the options available to help you achieve this and strongly urge you to take action now to toughen up your security.
This includes shed and workshop door locks, security lighting, employing security chains, fitting roller shutter locks to your garage, fitting trackers and using alarms - all methods designed to deter thieves and keep your property safe.