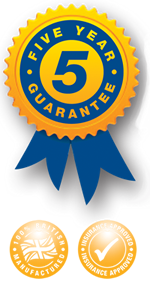 Immobilise your caravan with winter wheels when it goes into storage until next spring
Date: 13/10/2022
It's that time of year! The long days of a very hot summer are now just a distant memory and the equally long nights of winter lie ahead - so it's time to prepare your caravan for hibernation and put it into storage until next year.
There are several things to consider in doing this and any good checklist should first and foremost tick off a secure location, somewhere you know your caravan will be safe for the duration.
The next thing on your list, which will also increase security, should be to fit Bulldog WL10 winter wheels - an essential accessory when putting your pride and joy into storage.
How do they work?
Our winter wheels come with a locking plate and high security locking bolt which conform to our Bulldog Sold Secure approved products and are suitable for fitting on four or five stud caravan wheels.
The winter wheels, two oblong shaped metal plates, replace the normal caravan wheels and prevent the vehicle from being towed away. The removal of your caravan wheels also means there is no need to replace faulty tyres as a result of having been stood in the same spot over the long winter months.
Fitting the winter wheels is straightforward and full instructions are available from us at the time of purchase.
Other security measures
Having immobilised your caravan don't forget to ensure the security of the building you are keeping it in and, once again, our highest quality products have been tailor-made to meet these requirements. They include:
● Door locks
● Security lighting
● Security posts
● Garage door locks
● Chains
● Alarms
All these measures can be fitted easily and are designed to help you keep your property safe and secure - the ultimate in protection and reassurance. Some other things to consider when putting your caravan into winter storage include:
● Emptying your caravan of personal items and removing all foodstuffs
● Drain the water system
● Disconnect the battery and charge it up periodically over winter
● Leave fridge and freezer doors ajar after cleaning them
● Close windows, blinds and vents
● Turn off or remove gas bottles
● Secure and cover your caravan
By following all these simple steps and taking the appropriate security precautions, you will be assured of a smooth transition in getting your caravan ready to hit the road again in the spring - which we all hope won't be too far away!