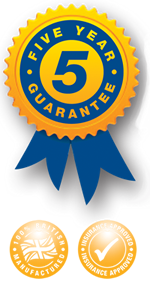 Keep Christmas under wraps?'Tis the season to be visible.
Date: 28/11/2022
There is a burglary in the UK every 108 seconds. By taking simple measures, you can concentrate on having a great Christmas without having to worry about the security of your home.
Light Up your Home Burglars can use the darker days around Christmas to conceal their break-ins from your neighbours. Security lights placed around your home can act as both a deterrent and an effective way to spot anyone trying to break into your home. A lovely display of festive lights can also help to provide some much-needed illumination around your house at this time of year.
Hide Presents. Once presents are bought and wrapped, its tempting to leave them under the tree ready for Christmas day. However, if your tree can be seen from the outside, it provides temptation to burglars who will know where to find them without searching and increasing the risk of being caught. The loft is a great place to keep them as its hard to get to. Only bring presents out on Christmas Eve to give intruders a smaller chance of seeing them and planning a break-in.
Don't let your home appear empty. If you're going away for Christmas, do everything you can to ensure a burglar can't find out. Burglars often look for signs that homeowners are on holiday e.g., social media, post by the door, empty driveways and no lights on. A home alarm system not only gives peace of mind when away but also when you are at home.
Don't tell the whole world. Criminals are turning to social media to look for potential targets. Telling every man and their dog your plans let burglars know when your house is going to be empty. Uploading your expensive Christmas gifts on Facebook is another bad idea, you're basically advertising your expensive items that are available to be taken from your home! If you can't face the thought of a social media free Christmas, make sure that the privacy settings on your accounts are up to date and only those that you want to see, can!
Lock up Garden Sheds & Garages. We often forget to secure outbuildings like sheds and garages. These areas give intruders additional entry points to your main home and access to tools that will make their break-in easier. Security lights and high-quality locks can help here! Burglaries can have a significant financial, emotional and mental impact on your family. Make sure your Christmas isn't ruined by protecting your home from break-ins.
Recycle packaging carefully. If your lucky enough to be gifted expensive items at Christmas, be careful not to advertise your new valuables to burglars by leaving the packaging outside. Fold packaging down (ideally inside out) to fit in your recycling bin, take it to your nearest recycling centre, or only put it out right before its due to be collected.
Keep cash secure. Cash is a popular gift for those hard-to-buy-for loved ones. Just be careful how you store it around the house. If you have to keep cash at home rather than in the bank invest in a security box and keep it out of view along with all bank cards, important documents and receipts.
Enjoy yourself Most importantly, enjoy the festive season and have a great Christmas!