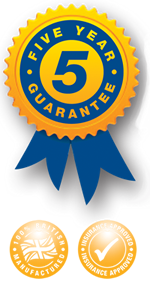 Maintenance of your Bulldog products is vital and now is the time to do it
Date: 20/10/2021
Our products are leading the field in the security industry - they are designed by our experts to be the toughest criminal deterrent possible and manufactured to the highest specifications with the most robust materials which are designed to last.
It's a reputation we are proud of and one which has been built up over many years of experience. We have a comprehensive range of security products and while their quality is second-to-none, certain checks and maintenance need to be carried out periodically to ensure they remain operating at peak efficiency.
Moving parts bring wear and tear and will ultimately result in a product not functioning as it should or breaking down which is why NOW would be a good time to check your Bulldog device and see that it's in tip-top condition.
We have the answer
Needless to say, our involvement with you doesn't end with the sale of one of our products and we can provide the answer to any maintenance issues that may arise with an extensive range of spares. These include spare parts for your:
● Hitchlock - including dummy ring plates for minilocks, bolt caps, a false ball to be used with the WW100B minilock and a recessed cup for use with the SA1 and SA1C Bulldog lock bolt.
● Wheel clamps - including lock bolts, adjustment screws, rubber discs for Titan and Centaur Wheel Clamps, fasteners, steel discs, spanner and cover plate.
● Security posts - including ground lock tube, post socket and socket cover plate.
● Lock bolts - including red and black dust caps, super and commercial lock bolts.
● Stabiliser - including angle brackets and accessories, car brackets, locking studs for car brackets, miscellaneous stabiliser parts and replacement friction discs.
The key to every problem
We are also able to provide you with replacement or additional keys for your Bulldog products - all you will need when ordering the key is the number stamped on the key and delivery time takes between 10 and 14 working days.
We know only too well how easy it is to put off making checks on equipment and carrying out basic maintenance, but it really is important and will ensure your Bulldog product continues to do what it's supposed to - protecting you, your family and your property. Why not do it now, while you think about it?