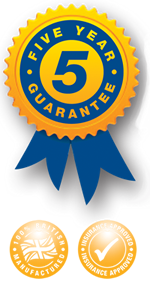 My parents are elderly and I want to be able to protect them when I'm not there
Date: 10/01/2020
We are living in an ageing society which means more older, vulnerable people who need to be cared for. Those who are able to live independently want to do so for as long as they can - it's understandable but can cause a great deal of worry and stress for their nearest and dearest - including many who may not live so close either.
Even if regular visits are made and every possible precaution is taken to ensure they remain safe there is always the worry about an elderly relative if they're living alone and something happens while you're not there.
Our new and exclusive Bulldog Secure Alarm is more than the latest high level security device which can protect your property. It also has other invaluable built-in advantages for helping to keep track of a vulnerable relative within the home and alerting you when there may be something wrong.
Sensing a problem
The Bulldog Secure Alarm has a door-contact sensor feature which can be fitted to:
● The fridge door
● Medicine cupboard
● Any other door in the home in frequent use
The sensor will sound an alarm and alert you if, for example, the fridge hasn't been opened within two hours. This could indicate to the family that a drink hasn't been made within that time and may mean the relative is incapacitated.
The medicine cupboard alert can be programmed to coincide with when it should be opened. Failure for the door to be opened at required medication times is also a pretty good indication that something is not as it should be and that the medication has not been taken.
Other well-used doors which remain unopened for an unusual period of time could also give cause for concern and the sensor will do its job by raising the alarm.
In addition to the reassurance offered by our new alarm system it is also a good idea to check out our personal trackers - an effective way of ensuring your loved ones are kept safe.
They can be carried easily around the neck, meaning the alert is sounded if the person carrying it has a fall and may be unable to move or be unconscious. It also comes with a panic button which can be pressed by the user who knows someone will be responding when the alarm sounds.
A fall or being suddenly hit by a debilitating illness or injury are among the worst fears for anyone living alone - particularly if they can go some time without having someone calling in.
The personal tracker and Bulldog Secure Alarm are two ways in which we are working to keep the elderly and vulnerable safe in their own homes. For more information call us on 01952 728171.