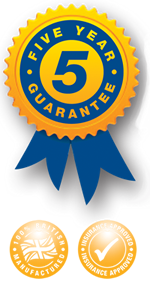 No caravan show at Birmingham but don't worry, you can still buy direct from our stockists!
Date: 19/10/2020
The Motorhome and Caravan Show has been postponed but it doesn't mean you have to miss out on your annual shopping trip!
You can still ensure your caravan or motorhome is safe and secure by buying your Bulldog products online or from your nearest stockist.
The loss of this year's show is a blow. It's one of the major events on the motorhome and caravan calendar each year and something the many thousands of visitors and exhibitors look forward to with great anticipation - including us!
But the news that it won't go ahead has come as no great surprise in the present circumstances where we all need to ensure that we do everything possible to remain Covid safe and the show will return again next year from October 12th to 17th.
Taking stock of your security
Motorhome and caravan owners may have missed out on viewing the latest products available in person but the loss of this year's show is an ideal time for people to review their security. Here are some ideas for you to consider:
● The steering wheel lock is still one of the simplest but most effective ways of preventing your motorhome from being stolen. It is a visible theft deterrent and may just be enough to persuade a thief to move on to an easier target.
● A wheel clamp is easy to fit and makes it impossible for your motorhome or caravan to be driven away - whether on a campsite or outside your home. While we are on the subject of wheels, use our tough wheel lock bolts for additional security.
● Installing a security post on your driveway provides added protection and is another simple security measure which is easy to fit.
● One of the best ways to protect your property is to install the Bulldog Secure Alarm - our very own exclusive product and one which has proved extremely popular for toughening up security in the home, but is equally effective for motorhomes and caravans.
● Get it tracked! We have a range of GPS tracker options for all types of caravans and motorhomes. Fit a second tracker in case the first one is discovered and make sure your tracker registration details are up to date. This will aid in recovery if you are the victim of theft.
● Tried and tested, our hitchlock has been preventing theft for many years, preventing your caravan from being unhooked and towed away, and remains as popular and robust as ever.
● CCTV and security lighting are other highly effective ways to ensure your property stays safe, which also includes your motorhome or caravan if it's parked up outside your home.
It's amazing just how many measures you can put in place to ensure your caravan and motorhome remain secure. Simple measures to install which don't need to cost a fortune. Indeed, they are extremely cost-effective when you consider how much you have paid for your pride and joy!