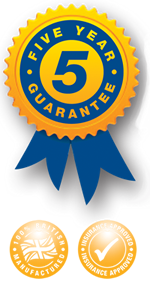 Our 7 top tips to securing your home
Date: 27/09/2019
It's an ongoing battle ensuring home and possessions are safe from the turmoil and emotional upset of theft and there are few things worse than your home being invaded and personal possessions stolen.
Prevention is better than cure and there are a number of steps you can take to ensure you remain safe. Keep thinking about your security, regularly appraise measures you have in place and think about how you can improve them. Always be aware, try to spot areas of weakness and move to close any holes in your defences.
Due to consumer demand, we have recently developed and launched our own home alarm system, that you install yourself in less than 60 minutes to protect your home and family. It got us thinking about home security in genreal, and what else you could do you can do to reduce your security risk.
Here are some ideas you may like to think about:
● Keep them out - Make sure doors and windows are kept locked. Use quality locks and see they are fitted properly. Have a sturdy chain fitted on the front door and/or spy holes so you can see who is calling before opening the door. See that valuables are kept out of sight from prying eyes and not visible to anyone looking through windows.
● Light it up - Darkness is a wonderful asset to thieves, they really don't like being the centre of attention so having security lighting fitted means you will know when anyone is about. Lights are activated by movement sensors and often have the desired effect of scaring a thief away rather than them being observed doing something they shouldn't. Lighting up your driveway, garden and path will give ample warning to the whole neighbourhood that someone is poking about on your property who shouldn't be there.
● Make a noise - Get an alarm fitted, make sure it is working properly and the codes are left with a trusted neighbour or relative in case it is activated and you're not there. An alarm is still the most effective way of alerting you and neighbours to someone trying to get into the home. Noise is another wonderful deterrent, making an attack on an alarmed home one the thief would probably rather leave alone. You don't have to spend a fortune on a home alarm and we would recommend you have a look at our recently launched Bulldog Secure Alarm which can be fitted by the homeowner in under an hour at a fraction of the normal cost. Having a dog is another excellent alarm system and a marvellous protector of the home. A barking dog will not only alert you to an unathorised presence but also remind the thief of what awaits should they gain entry.

● Holiday planning - There are a number of precautions which should be taken when leaving the house for any length of time, including holidays. Cancel the milk and papers and make sure a valued neighbour or relative keeps an eye on the place, ensuring letters are not sticking out of the letterbox and any visitors are monitored. Lights on timers will give the illusion of someone being in the house during the evenings and overnight and get your neighbour to draw and open the curtains as an added deterrent. Make sure doors and windows are shut and secured before leaving and be mindful of what information your posting on social media. Is there really any need to tell the whole world about what you are doing and when?
● Don't forget the drive - A car is one of the most expensive things you are likely to own so make sure you secure it. Use the garage if you have one and if the vehicle is left on the road or driveway, see that doors are locked and windows are closed. There have been a speight of thefts from drives in recent months so having a vehicle on the drive and close to the house doesn't guarantee it's safe. Consider having security posts fitted where practicable so a vehicle can't be driven away easily. Keep the keys out of reach and away from the front door and have a tracker fitted which will alert you to any tampering.
● Secure the garage - It is also important to ensure any workshop or garage connected to the house is secured. These are very often the least thought about areas in terms of security even though they grant access to the house. Even if it's a stand-alone garage, take the right approach when it comes to security - a flimsy lock and broken windows are an open invitation to thieves. Sturdy locks should be employed and security posts are excellent devices in front of the garage door.
● What's in the shed? - Have you thought about what's in the shed? Chances are, probably not! There can be a variety of expensive items, lawnmowers, bikes, garden tools and so on. The shed is going to be away from the house but think about where it goes ahead of putting it up and keep it away from the perimeter of the property where it's easy to target. Again, make sure doors and windows are locked and, where possible, in an area covered by your security lighting.
For more information and advice about how we can help with home security, telephone our team on 01952 728171.
If you'd like to find out more about our new Home Alarm system which is available from just £299 (with no fitting vcost as you install it easily yourself), head over to our new website for more details.