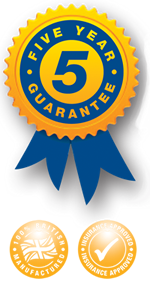 Rising cost of living fuelling fears of increase in crime
Date: 23/09/2022
We all live in fear of home invasion - our personal sanctuary violated by burglars resulting in the loss of treasured possessions, an increased feeling of vulnerability and quite possibly significant damage to property.
Our team at Bulldog Security Products in Shropshire is here to support you with our range of products.
The number of burglaries in the UK dropped substantially during Covid and three lockdowns but numbers have steadily risen since then and while we have not yet returned to pre-pandemic levels, the warning signs are there.
An attractive option
Add to the mix the problems facing the nation in terms of increasing food and energy bills, a rise in the costs of raw materials and other products and it's easy to see how crime for some is becoming a viable and attractive option.
Nearly 270,000 burglaries were reported in the UK last year with more than a third happening during the day and a little under two thirds taking place when there is actually someone at home while the crime is being carried out.
Opportunist crime
The majority of burglaries remain opportunist with criminals looking for an easy way in through open doors or windows - and we have seen plenty of those over the summer with the hot weather we have all experienced.
Other attractive opportunities they are looking for include:
● Homes in areas more likely to have rich pickings.
● Times of the day and days of the week when people are more likely to be away from home.
● Targeting specific items they may have seen or heard about.
● Garages and sheds in easily accessible locations.
● A return to a property already the target of a burglary where the security has not been upgraded.
Many burglaries can be prevented by installing basic security measures, always being alert to the threat and securing all doors and windows. An opportunist crime means that a criminal can often be deterred and persuaded to give up or at the very least move on to what can be deemed to be a much easier target.
Security is paramount
Other measures you can take include installing an alarm system, security lighting, fitting robust locks on your garage, sheds and workshops and keeping all valuables out of sight away from windows.
It is estimated that in more than 40% of burglaries in the UK the victim and the offender are known to each other - which is why it is so important not to broadcast what you have in your home and details of poor security.
With a burglary happening every one minute and 46 seconds on average, it's important to recognise the dangers. There is something you can do to tighten up your home security - and it's time to do it NOW!