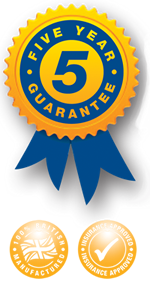 The importance of UK manufacturing with first class customer service
Date: 08/04/2020
Like so many other companies we have had to temporarily close our doors due to Covid-19 - but our fabulous customer care service is still carrying on behind the scenes.
These are tough times and even though we can't operate as normal, we can still offer the help, advice and reassurance to customers who have questions about their security .
The current crisis is having devastating effects across the world but through the worst of times we are also seeing the best in many people and we have been inspired by the stories of help and support which continue to shine through.
We are proud to be a UK manufacturer and equally proud of businesses across Shropshire which are continuing as a key industry at this time, for those who have adapted their business to survive and those who are on the frontline in this pandemic.
We are still here to help
It's important for people to know that while we are fully respecting the isolation and social distancing rules we are still active through our social media platforms and have been dealing with enquiries through Facebook about replacement keys, how locks work and answering all sorts of other security questions which people need answering at this time.
Customers have had the confidence of knowing that, being a UK-based manufacturer, they've always been able to get hold of someone at Bulldog at times when other countries around the world went into lockdown.
We have been liaising with our distributors including caravan dealers across the UK, who we know have seen a spike in purchases as people were forced to lock up their caravans and motorhomes at a time when they would usually be using them.
It's important that customers still have access to the quality security products we provide through this crisis and that they are available in sufficient quantity with our distributors to be delivered.
We will continue to provide assistance remotely throughout the crisis with the enviable first-class service customers expect from us and are looking forward to the time when some degree of normality returns and it becomes business as usual.