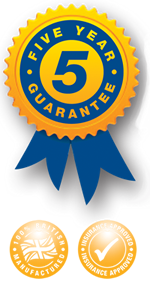 Tis the season to be jolly... and security minded!
Date: 28/11/2018
Here at Bulldog Security Products we are always looking to raise awareness about security and offer advice on the various options we have to help keep you and your property safe. Christmas is a great time of year for most of us but did you know the festive season sees a spike in crime?
We are thinking about security for 12 months of the year but as we approach the festive season we thought you might like to give it some thought too.
A New Year usually means new resolutions - some of which are easier to keep than others - but few can be as important as resolving to toughen up your security and avoid the misery of being a victim of crime.
With this in mind, we have come up with five things you might consider when making those pledges for 2019. So decide on a New Year resolution to:
● Get security lighting installed - a simple alert to potential criminal activity which can be easily fitted and a perfect way to put those unwanted visitors in the spotlight by illuminating drives, paths and gardens.
● Secure your valuables in a portable storage case - an ideal way to keep documents, cameras, mobile devices, tools and equipment safely under lock and key in your car, lorry, van, caravan or motorhome. It is also something that will serve you well in the home or office and is secured by wrapping a cable lock around a fixed object.
● Use a tracker - trackers have made an amazing difference in the ability to keep tabs on property and aid in its recovery if stolen. Trackers can be used on anything - vehicles, containers, skips. . .even people! They are easy to fit, difficult to detect and a simple cost-effective way of protecting your possessions.
● Fit a steering wheel lock - still probably the easiest and most effective way of ensuring your car isn't stolen. We have been producing the steering wheel lock for many years and it remains one of our best sellers, suiting most cars - even those with bulbous airbags.
● Choose high security locks - we have locks suitable for a variety of doors and gates. They are tough, reliable and often act as a criminal deterrent as the thief seeing the Bulldog brand will often give up and look for an easier target. Exterior locks are usually the first line of defence so make sure you fit the toughest and most dependable.
It can be very difficult keeping New Year resolutions but we hope you'll agree that the ones we have suggested are well worth the effort. Our staff at Bulldog Security Products would like to wish you all a very merry Christmas and a happy and secure New Year.