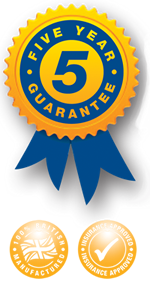 Toughening up motorbike security
Date: 10/07/2019
It's summer and the good weather it sometimes brings means it's also the time for seasonal motorbikers to get their pride and joy out of storage and take to the road. It's also a good time for us to raise the issue of security and remind you of the ways to keep your motorbike, scooter or moped safe from theft.
It will probably come as no surprise, but a motorbike is more likely to be stolen than a car - about twice as likely, actually, so it's worth thinking about the things you can do to reduce the risk of theft.
They are easier targets and can be whisked away within seconds, sold on or often quickly broken up and sold as spares. Once stolen these expensive items are extremely difficult to recover and it's estimated the UK is experiencing motorcycle theft costing somewhere in the region of £8m every month.
It's an eye-watering amount of money and a few simple precautions will minimise the risk of theft, preventing the heartache, inconvenience and expense with thieves often giving up on their prey, moving on to easier targets.
Here are our tips on helping you to keep your property yours!
● Keep thieves in the dark - Don't advertise the fact you have a motorbike by leaving it outside, if you can help it, or in an area the thief can easily get at. Always consider how you can make it more difficult for them. Lock it away in a garage or secured premises, install security lighting and fit alarms to bike and property.
● An extra layer of security - Never a bad idea. There is always something else you can do to put another obstacle in the way, particularly when combating the opportunist thief. Use appropriate tough and up to the task locks on doors and think about adding an extra one. Security posts provide additional safeguards in preventing access to garages and outbuildings. If you have to leave your machine outside, use chains, locks and anchor it to the ground where possible. You can also fit a wheel clamp.
● Keeping track - A Bulldog favourite and one being employed by an increasing number of people across a wide variety of circumstances. Trackers are wonderful, intelligent, unobtrusive items that will not only tell you when your motorbike has been stolen, it will also alert you to tampering and act as an immobiliser. If stolen, the tracker makes it easier to locate and recover. A tracker means you will have an 80% or better chance of getting your property back.
● Magic marker - Using a forensic DNA style marking liquid will ensure your property will always have a unique signature linking your stolen property to you. Kits are readily available and easy to use and in the event of theft the recovered property can be more easily returned to the owner.
For more information about how Bulldog Security Products can help, call us on 01952 728171 or email sales@bulldogsecure.com