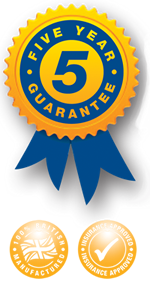 Bulldog Help DIY SOS Volunteer Theft Victim
Article Date: 04/10/2017
A Shropshire security firm has made sure a builder who was targeted by thieves as he volunteered for DIY SOS won't become a victim a second time.
Bosses at Bulldog Security Products in Much Wenlock have donated a new van door lock to Brett Bradford to make sure his latest donated tools are safe.
Mr Bradford, 57, who runs Allscapes Design and Build in Brookside, had his tools stolen as he helped on the DIY SOS project in West Bromwich. He had previously volunteered on the Telford project too.
Yvonne Jordan, company secretary at Bulldog Security Products, said they had read about the theft and then the donation of new tools and wanted to make sure they were safe.
"We are a family run firm where people are at the heart of everything we do so we got in contact with Brett to offer him one of our van door locks.
"He snatched our hand off and we were very pleased to see him go off with a smile on his face.
"He was helping do that for someone else, to make them happy but was the one left devastated.
"We thought it was so unfair and we hope our donation will keep his van safe in the future," Mrs Jordan said.
Celebrity presenter Nick Knowles appealed on social media for people to help Mr Bradford and a second builder who was targeted.
"Following this donation we are hoping to get in touch with Nick Knowles to see if there is some way we can support other tradesmen who volunteer their time to the show in the future.
"As we have seen the show attracts hundreds of tradesmen and women who are easy targets for thieves as they concentrate on the build which is always to such a tight time scale so we hope we can help in some way."
As he collected the lock from the manufacturing plant in Much Wenlock, Mr Bradford said: "To firstly receive the donation of tools and then to get the call about the free Bulldog lock - it has been overwhelming.
"I knew about Bulldog but didn't realise they were right here on the doorstep making everything here in Shropshire.
"I can't thank Ian, Yvonne and their team enough for their generosity."