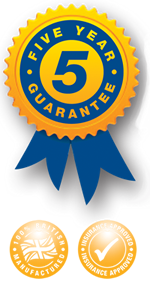 The Best Of British At Bulldog
Article Date: 19/02/2018
With over 30 years in the industry bosses at Bulldog are fully aware that theft of vehicles and their loads is an ever increasing threat to all commercial vehicle operators.
Coupled with the constant threat of illegal immigrants entering the vehicle when returning from the continent and you have a recipe for disaster that could lead to loss of contracts, heavy fines or even spell financial ruin, leaving the cab driver at more risk than ever before.
Bulldog Security Products, based in Shropshire, design, manufacture and distribute worldwide, offering a full range of security equipment that will help with the prevention of vehicle theft and to stop the criminals in their tracks before any damage is done.
With the obvious visual deterrent the idea is that the criminal will take one look and leave the vehicle alone, ensuring reputations remain intact.
The Bulldog container lock is the most popular choice with many operators as it effectively locks the rear doors together creating a formidable barrier and an instant physical deterrent,
Adjustable and portable, the lock is interchangeable between vehicles; it is case hardened and has an impressive 10 pin drill and pick resistant lock to ensure it cannot be easily breached. The vehicle is less of a target for criminals and stowaways.
To immobilise the trailer for health & safety reasons Bulldog offer the KP100 King Pin lock. A 25mm diameter locking bar secures a solid steel case around the king pin preventing the coupling of the tractor to the trailer.
It is simple to fit and is supplied with a PVC carry case to ensure grease free handling.
Airline locks are a must when it comes to securing your commercial trailers. They prevent the release of the air brakes, preventing accidental movement of trailers whilst loading.
Security products aren't just for external measures, Bulldog have a range of steering wheel locks that carry the Department of Transport approval, they are highly visible locks that have been used by Police authorities across the country and suit a wide range of applications to include both light and heavy goods vehicles.
So what are the latest products flying out the factory?
Commercial premises and commercial vehicles are now being fitted with tracking devices.
Simone Byrne, sales and marketing manager at Bulldog Security Products said they were working with commercial businesses across the UK and beyond in haulage, construction, freight, plant and leisure as the fight against criminals continues.
"It just seemed like a natural transition to introduce our own tracker range. We have a selection of trackers for every sector, including those that will immobilise the vehicle and even cut off the fuel supply simply by just using your smartphone.
"Our magnetic tracker is a favourite of mine, not only does it require no external wiring it has a battery life of up to 4 years between charge and can be hidden anywhere in your vehicle or trailer. Alerting a sleeping driver in his cab if the back doors have been opened."
Bulldog Security Products are a brilliant example of a business which puts security measures to the highest standards.
"We are a member of Secured by Design, a flagship UK police initiative to help 'Design out' crime" continued Mrs Byrne.
"Many of our products carry this approval along with the, 'Sold Secure attack testing certification which is in its 17th year."