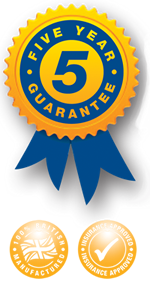 Motorcyclists Urged To Lock Up & Track
Article Date: 21/05/2018
As the blue skies start to make an appearance, one Shropshire company has highlighted the need for increased vigilance in motorbike security.
There are more motorcycles on the road at this time of year and they are an increasing target for thieves, but one company taking the fight to the criminal is Much Wenlock-based Bulldog Security Products.
The company has more than 30 years experience in making sure buildings, vehicles and people are as secure as possible and making life as difficult for the thief as they can.
Bulldog managing director Ian Jordan said motorbikes were "hot products" for thieves and often left without any security device on them.
"There are so many stolen each year - including many stolen to order - it is important to realise that security should be top of the list of priorities for motorcyclists," he said.
"We at Bulldog recognise this as being a problem and work towards raising awareness across the country and offer cost-effective solutions to protect these valuable items from both the opportunist and professional thief.
"Of particular interest to motorcyclists will be our range of high-security British made chains, locks, ground anchors, the top of the range MC100S boasts an impressive six-foot case-hardened 13mm steel alloy with 16mm end link and feature, the Bulldog super lock bolt that can't be bolt cropped.
"It takes just a few extra seconds to secure the motorbike but can take the thief just seconds if it is left without any security. We know which few seconds we would prefer.
"It is also important to keep your bike under cover if you're able and we can provide a range of suitable garage locks for that purpose.
"We have GPS Tracking units for every type of vehicle and trailer so that if yours is stolen it can be tracked and, hopefully, recovered.
"Another great initiative which helps in returning stolen items is DNA marking kits which can be used on motorbikes, motorbike clothing and other 'essentials' on your bike."
Mr Jordan said high performance LED lighting was also a popular product for motorcyclists. "These products require no wiring and can be fitted virtually anywhere around the garage, workshop and driveway and helps to deter the thief.
"People work hard to be able to afford and keep a decent vehicle or motorcycle for use on the road. It is a shame when their pride and joy is stolen. It causes so much upset and disruption - it often leaves someone stranded away from home without any possessions as they are all stored on the bike. "By taking a few of the simple steps I have outlined you will be in a much better position to retain your property and thwart the criminal. And that's what it's all about."
For information on any of these products visit www.bulldogsecure.com or call 01952 728171.