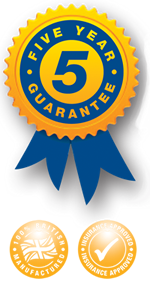 Don't Become A Target To Thieves
Article Date: 31/07/2018
A Shropshire security company is urging people to take extra care and ensure their property is safe before packing the cases and heading off on their summer holiday.
The warning comes after three cars were stolen during overnight raids where homes were targeted through insecure doors and windows and car keys taken.
The burglaries happened in Rowan Drive, Alder Road and Harrington in Shifnal and Bowling Green Lane, Albrighton, overnight on July 28-29 and came after homeowners had left doors and windows open in the warmer weather.
July and August are well-known to thieves as the main months of the year when families take off on their annual break and they are looking to take advantage of any weakness in home security.
Ian Jordan, managing director of Bulldog Security Products in Much Wenlock, said he was asking people to think about tightening up on their security to lessen the chance of coming home to the heartbreak of a ransacked home.
"It's that busy time of year again when many people heading off on holiday will have their homes targeted by thieves while they are away," he said.
"Thieves love the summer holidays and are keen to hunt out the easy pickings to be had from homes. There are many signs that people are away which are an open invitation to the thief.
"I am urging people to consider their security arrangements and restrict the opportunities for thieves to make off with treasured possessions. After serious physical attack on the person there is no worse crime than someone violating your home. By taking a few simple steps you can lessen the chances of it happening.
"Cancel the milk and papers and make sure a trusted neighbour or relative keeps an eye on the place while you are away, making sure letters are not sticking out of the letterbox and any visitors are monitored.
"Facebook is a wonderful thing but it's a mine of information for the thief and if you are posting your holiday plans and dates it may not be just your Friends that get to know what you are doing, where you are going and when.
"If you have an alarm fitted make sure it is working properly and the codes are left with the trusted neighbour or relative in case it is activated.
"Lights on timers will give the illusion of someone being in the house during the evenings and overnight and get your neighbour to draw and open the curtains as an added deterrent.
"Keep valuable items out of sight of anyone looking in through the windows and get some security lighting fitted which can be activated by a light and motion sensor. This will light up your driveway, garden and path alerting the neighbourhood to the fact that someone is poking about on your property who shouldn't be there.
"It is also important to ensure any workshop or garage connected to the house is secured. These are very often the least thought about areas in terms of security even though they grant access to the house.
"Bulldog Security Products have a number of items that can help with your home, garage and workshop security, including security posts, security lighting and high security door locks.
"For more information and advice on how we can help, visit the website www.bulldogsecure.com or telephone our friendly team on 01952 728171."
Anyone with information about the Shifnal and Albrighton burglaries can contact police on 101.