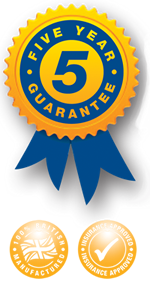 Bulldog Teams Up With Witter Towbars
Article Date: 09/08/2018
A leading Shropshire company has announced a new partnership deal which will improve the security of more vehicles on the road.
Bulldog Security Products, based in Much Wenlock, and Witter Towbars, based on Deeside, have joined forces in a deal which will see Bulldog's One tracker fitted to towbars manufactured by Witter.
Ian Jordan, Bulldog Security Products managing director, said it was great news for customers who will now be able to have a tracker fitted at the same time as their towbar.
"Trackers are becoming more important almost by the day and enable owners to keep tabs on where their vehicle is at any time and making it easier and quicker to track and recover," he said.
"Witter Towbars have a proven track record dating back 60 years of fitting towbars to all types of vehicle from those needing to tow a simple trailer right up to the heavy stuff like substantial caravans and horseboxes.
"The company is a major player on the national and international stage and it makes perfect sense for our two companies to band together in this way enabling the two fittings to be done at one time.
"It is simply a matter of providing them with the Bulldog One tracker and Witter will then fit them for customers at one of their approved centres."
Andy Royles, of Witter Towbars, said: "We have a very strong brand in terms of towbars and it is our objective to introduce new products, so it is important to us to work with other strong brands, hence, our partnership with Bulldog.
"Part of our UK strategy is built around developing an e-commerce strategy where the consumer can purchase a product direct from our website and it can be fitted at one of our approved installers.
"The bulldog tracker is a product that fits in with our new portfolio of products and the backup support and the product provided by Bulldog makes them an ideal partner for our requirements.
"As we develop and enhance our e-comm strategy it is hoped we can increase the range of Bulldog products we offer."
For more information about Witter Towbars, visit https://www.witter-towbars.co.uk