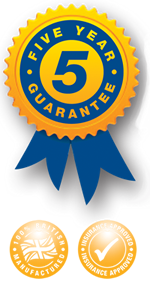 It's our 35th Birthday!
Article Date: 15/03/2019
An internationally renowned security company based in Shropshire is celebrating 35 years in business - and continues to go from strength to strength.
Bulldog Security Products is now based in Much Wenlock but started life as a one-man band when company founder Ray Jordan created a caravan stabiliser in a shed at his home in Bridgnorth in 1984.
The company has grown and evolved over the years and has maintained its position as an industry leader in producing high quality security products which continue to set the benchmark in the fight against crime in what has become a truly international operation.
Bulldog remains a family business with Mavis and Ray's son Ian now at the helm as managing director, after spending all his working life with the firm, his brother Neil is a director, Ian's wife Yvonne is company secretary and the next generation of Jordans is also well represented with Lucy and Andy employed by the company.
The firm now employs 16 people, with the majority of staff having given many years loyal service - something Ian says has played a major part in the company's continued success.
"We are immensely proud of our team and the long service element means we have a wealth of experience to draw on, our people know what the company is all about, what is required from our products and really buy-in to the whole Bulldog ethos," he said.
"People buy into people and the personal customer service is at the heart of everything we do here at Bulldog.
"We may have been forced into a digital world in recent years but people - fantastic employees - are most certainly the key to success."
Ian says the family history is important and the success his father founded.
"Dad was an engineer and created a caravan stabiliser in his shed back in 1984 after deciding the dangers of towing caravans was so serious something needed to be done about it.
"The idea took off, he ended up forming his own company. He moved his operation to a Nissen hut in Church Lane, Bridgnorth, and then to Much Wenlock. That Nissen hut is still there, by the way, and being used today!
"Dad's company was called Leisure Craft and is still in existence within the family business but he then formed Bulldog Security Products - a nod to Winston Churchill, someone he had always admired."
Ian said the company's first employee still works for the firm as a robot technician, who was joined later by his brother Lee, who is also still with at Bulldog as a production and manufacturing operative.
"The loyalty of our staff is truly amazing and in an ever-changing world where staff turnover seems to be taking place at a mind-boggling pace, it's reassuring to know that we are bucking this trend, and are proud to do so, with the benefits this brings to the company. Our staff don't retire from Bulldog until they want to!"
Ian said the company journey is important.
"Our company moved to a unit on the Stretton Road Industrial Estate in Much Wenlock in 1988 and within a short time we had three then a fourth. In the early days we made everything then we had a spell where most of it was produced off-site, but these days virtually everything is made on the premises which is great for all involved.
"We have always been known and respected for making tough, high quality products that are helping people keep themselves and their property safe from attack. As thieves have become more sophisticated so has the need to keep developing, upgrading and providing new products to stay one step ahead.
"Bulldog products are highly sought after and we export to destinations all over the world - while still being proud to be a part of the Shropshire business economy. We source all of our products from the UK, an important factor in helping us to maintain the highest level of quality and service.
"Our Bulldog brand is stronger than ever and covers every kind of security product across a number of different areas like cars, quads, motorbikes, caravans, trailers buildings, plant equipment and equestrian. We also supply a comprehensive range of GPS tracking systems," Ian said.
"We have solutions for areas including leisure, domestic and commercial, have state-of-the-art equipment like our laser-cutting machine, a robot that welds products and a test rig which ensures all our products conform to the highest standards. We are also able to provide an extensive back-up service with all relevant spares.
"After 35 years in business Bulldog is still leading the market, we are able to move with the times but our objectives remain the same - to continue providing the best security product to protect our clients, something we will be striving to continue for many more years to come."