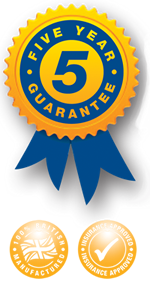 Bulldog Secure with Sold Secure
Article Date: 02/05/2012
5 of Bulldogs products have again passed the Sold Secure annual audit, underlining Bulldogs commitment to quality and security and their position as market leader.
Bulldog's relationship with Sold Secure goes back to the late 1990's when they were the first company within the leisure sector to recognise the importance of an industry security standard. This belief still remains today especially with the influx of Far Eastern products and the contrast of the quality between those and British manufactured products.
Bulldog not only design and manufacture their own products, they also where possible source components and specialist services locally to ensure their own stringent quality standards are met. Couple that with over a decade of Sold Secure annual testing and you have a range of products that are second to none.
1: The 5 products that passed the annual audit were:
Bulldog Euroclamp
Bulldog QD Caravan and Trailer clamp
Bulldog Titan wheel clamp
Bulldog Centaur wheel clamp
Bulldog WW100B
2: Other products that also carry the Sold Secure approval:
Bulldog Minilock Hitchlock
Bulldog Hitchlock.