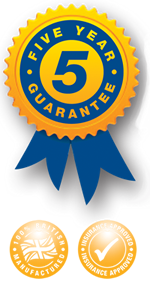 Centaur Wheel Clamp voted in the top 3 caravan security devices in the UK
Article Date: 12/09/2014
Bulldog's Centaur Wheel Clamp has been voted one of the UK's top 3 favourite security devices in a recent online survey conducted by caravan insurance specialists Shield Total Insurance.To read the full article click the following link: http://www.shieldtotalinsurance.co.uk/information-centre/buyers-guide/2014-caravan-security-device-survey
The Poll was conducted from a sample of caravan and motorhome enthusiasts via Shield Total Insurance's Facebook page and found Bulldog's Centaur Wheel Clamp voted as the most popular caravan wheel clamp. With many insurance companies now regularly stating wheel clamps as a minimum or compulsory requirement for unattended caravans and motorhomes, its Bulldog's Centaur Wheel Clamp that seems to keep coming out on top. The Centaur Wheel Clamp range, which includes models suitable for cars, caravans, trailers and mobile homes, has proven very popular among caravan and motorhome enthusiasts for a number of years now.
Ian Jordan, Managing Director of Bulldog Security Products Ltd, reflected on the survey result: " This is a fantastic outcome for Bulldog, and shows that our products are trusted by the UK caravanning community as being among the best on the market. It also shows that caravan insurance companies really do value high quality security devices and recognise our Centaur product as a superior product."
What Car? Online awarded the Centaur Wheel Clamp the Security Super Test Best Product, writing that " The Centaur's sheer size and bright colour helps to put thieves off" and Practical Caravan Magazine stated that the Centaur Wheel Clamp is " A real bruiser of a Wheel Clamp the Centaur's success reflects its smart thief proof design." The clamp also has a Gold Approval rating from Sold Secure who are premier testing and certification house for security products.
For a simple and easy to install clamping device Bulldog's Centaur Wheel Clamp is packed full of features and benefits. The devices are suitable for 4x4's, motorhomes, caravans, vans and cars and are ideal not only for preventing theft of the whole vehicle but also for protecting alloy wheels. All the clamps are high security drill and lock pick resistant as well as being heavy duty, highly visible and with fully adjustable arms to fit to any wheel size.
Bulldog has been making high quality specialist caravan devices for 30 years and as a brand has always set exceptional standards for quality, customer service and commitment to our loyal team of staff. Company founder Ray Jordan first designed and built a caravan stabiliser in his back garden in 1984 and quickly found his design in popular demand after he distributed a further 25 of his new products among fellow caravan enthusiasts.
Bulldog has also now branched out into security products and we offer a wide range of specialist caravan security devices, such as GPS trackers, Hitch locks, Security Posts, Wheel Lock Bolts and Winter Wheels. A number of caravan insurers now offer significant discounts on their yearly insurance bills for the purchase and installation of approed security and safety devices.
If you are using a Bulldog security device then check that you are getting the maximum discount available on your insurance policy.