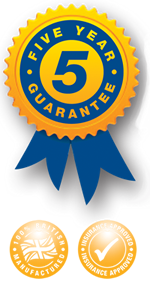 Yet Another Eventful Week at the NEC with our friends TripBuddy
Article Date: 20/10/2014
TripBuddy, one of the UK's more unusual towed leisure vehicles invited Bulldog to join them again for this years Motorhome and Caravan Show at the NEC.
Derbyshire based TripBuddy showcased their latest luxury alternative to camping by introducing the new 'Escape' model, designed to take you from the city to the countryside with ease. With it's unique style it opens up a world of camping (or should you say glamping) to a whole new audience.


Complementing the TripBuddy was a display of Bulldog's High Security Products, offering discounted prices and free delivery on all orders proved to be a real crowd pleaser throughout the week, with those new to camping and those who are not. With a variety of Hitch Locks and Wheel Clamps to suit every style of caravan/motorhome Bulldog catered for all.
The PP10 tracking device also attracted a crowd. As unlike most trackers the PP10 comes with no annual or monthly fees, free software updates such as port alerts, tracker history, mileage & speed alerts and with it's small, light design and easy installation visitors were very impressed. The feedback recieved has been fantastic. So much so we would like to extend our show prices and Free delivery a further 5 days, all you have to do is quote 'NEC14' with all orders (Offer closes Friday 24th at 4pm)


Finally, we ran a competition to win £90 worth of Security Lighting throughout the week... And the winner will be randomly selected and announced this Friday. Good Luck!