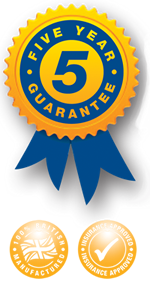 Bulldog TP200 T Post
Product Details
High security for trailers and horseboxes, simply position the T post through the A frame of the chassis and lock the post into the ground.
Easily removed when access is required.
Highly visual and effective.
Complete with Bulldog Super Lock Bolt, ground socket and cover plate for when the post is not in use.
Downloads
Data Sheet [TP200 T Post.pdf]
File Size: 437.72KB

Instruction [TP200 T Post Instruction.pdf]
File Size: 137.83KB