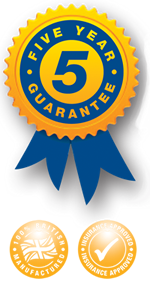 Equestrian & Rural Security
Date: 14/08/2019
We are very fortunate to be living in such a beautiful part of the country with Shropshire and its surrounding areas located in idyllic settings within landscapes which in many cases have remained unchanged for hundreds of years.
Scenic perfection, however, comes at a price and the quiet tranquility of the countryside which we all value so highly can also act as a breeding ground for crime. These peaceful settings mean something totally different to the criminal - areas where they think they can ply their trade without interference and with virtual impunity.
Rural crime is a major issue, something to be aware of and act upon. Farms, businesses, stables and homes are all likely targets for thieves seeking out high value equipment just ripe for the picking.
The countryside means fewer people which affords thieves the ideal opportunity to take their time and appraise targets ready to return at times most suited to their needs. Then there's the opportunist thief. Someone touring the quiet roads and lanes looking to see what they can grab in the here and now.
Taking action
Farms should ensure animals are tagged and equipment is marked. You should also think about keeping a log of property with a detailed description and photograph which can help in recovery.
Chain and secure everything you can and for the things you can't, lock items away in secured buildings. As added precautions, make sure vehicles are tracked and that they, and other equipment, are immobilised and keys are not left in the ignition when not in use.
Where possible put bars on windows where equipment is stored, like a tack room, get your buildings alarmed, fit security lighting and CCTV and also think about getting a dog as an early warning system.
Other ways to keep property secure include, chains, a high security door lock for sheds and workshops, security posts and roller shutter door locks.
Stable owners should microchip or freeze-mark their horses and always remember to keep horse passports locked away securely at a separate location from the horse. All equines must have one which means horses can't be sold on unless they have their valid passport.
Access to business premises, farms or stables should be restricted by making sure perimeter hedges, fences and walls are doing there job and that all gates are locked and secured.
People living in the countryside are familiar with the problems relative isolation can bring. It's important to meet the challenge head-on and ensure you take the steps you can to keep your property secure.
For more information about how we can help you, call us on 01952 728171.