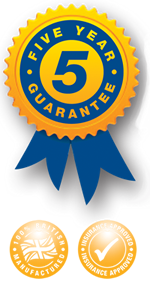 GETTING READY FOR THE SEASON AHEAD...
Date: 23/02/2023
We've nearly made it to spring! We know some people are hardcore winter caravanners or travelling snowbirds who have enjoyed their second home all year around but, for those who aren't... It's an exciting time of the year when we start to think about the new season ahead of us, wake your caravan from its winter hibernation and get ready to Go Go Go!
WE HAVE PUT TOGETHER SOME HINTS AND TIPS TO HELP PREPARE YOUR CARAVAN FOR THIS YEAR'S ADVENTURES
SPRING CLEAN -Give the caravan a good clean inside and out. After sitting for a long time, she may smell a little musty this can usually be rectified with a few hours of fresh air circulating. This is a great time to check windows and door seals which may be damaged Air the caravan thoroughly before checking for damp paying special attention to soft furnishings.
Always wash your caravan with a garden hose. Don't use a high-pressure hose that can damage seals. Start with the roof and work your way down
SERVICING If you get a service every year as recommended, we suggest that you book this in advance as many dealerships and service centre workshops get very busy at this time of year.
A basic service should include;
• Chassis and running gear
• Electrical Systems
• Gas Systems
• Water Systems
• Bodywork
• Ventilation
• Fire & Safety
TICK IT OFF THE LIST
🗸 ROAD TYRES Replace your WINTER WHEELS with road tyres ensuring the wheel bolts have been properly tightened and there are no signs of rust or wear. Check the condition of your road tyres making sure they are inflated to the correct PSI, check for cuts, bulges and the tread depth should meet legal requirements of no less than 1.6mm across the central three-quarters of the breadth of the tyre and around the entire circumference. Tyres are date stamped and should be replaced after 5-6 years regardless of tread left.
🗸 WATER Clean & sterilise the water system and Aquaroll to make sure the water you're drinking and using is nice and clean
🗸 GAS - Most caravans use propane or butane gas check your gas bottle is sufficiently full - many suppliers can only refill or exchange bottles due to shortages
🗸 PAPERWORK -Make sure your Caravan & Towing vehicle insurance, tax, MOT & tracking subscriptions are all up to date
Planning on crossing the pond? Then make sure your travel insurance and passports are also current and you adhere to any relevant regulations set by that country. Do not leave any registration documents in the caravan as they can assist thieves' with selling on if stolen
🗸 TOWCAR CHECKS
• Top up oil, coolant and washer fluid
• Check condition and pressure of tyres
• Check towing mirrors
• Clean & lubricate HITCHLOCK and WHEELCLAMPS
• Ensure your tow vehicle is equipped with all current security measures. Consider a GPS TRACKER and STEERING WHEEL LOCK if you do not have one.
🗸 SAFETY/ REPAIR KIT
• Batteries
• Fuses
• Duct tape
• Cable ties
• Bulbs - exterior and interior
• Toolkit
• First aid kit
• Check towing mirrors
EVERYBODY NEEDS GOOD NEIGHBOURS Introduce yourself and make friends - One of the best ways to ensure safety on site is to have plenty of neighbours around who can raise the alarm if anyone is snooping around
SEASONS GREETINGS
Park up your home from home on a seasonal pitch? You should treat your pitch security the same as you would if your caravan was parked at home. Make sure the HITCH LOCK and WHEEL CLAMP are all securely in place and regularly maintained.
Remember your WINTER WHEELS can be used whilst sited on your pitch to save wear and tear on your caravan tyres. Keep Valuables safe on site in our CB10 STORAGE BOX which can be hidden inside a cupboard or wardrobe and consider installing a BD10 Motion Sensor light which is battery operated and easy to install. This will illuminate your pitch when coming back from a trip to the local pub and also deter any potential thieves.
You can view the full Bulldog Security range at www.bulldogsecure.com