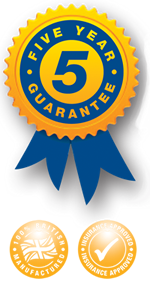 Is Your Sports Club Safe?
Date: 10/10/2018
Sport is possibly the most popular activity outside of working hours and there are many clubs across a wide variety of sports in Shropshire. Most of these clubs are run by groups of volunteers who do it for the love of their sport and to keep their team or teams going.
They will all have a home venue with facilities ranging from very little to those associated with a semi-professional or even professional standard of club. They have equipment, in many cases quite costly, that needs to be safeguarded and some will have club rooms with bars and the capability of providing food for members and guests.
People work hard to ensure the survival of their clubs which provide the chance to take part in your favourite sport and to engage in the various social activities connected with it. What you definitely don't need is an attack from thieves or vandals.
Our team at Bulldog Security Products have worked with many clubs around the county and beyond to help lessen the threat of this kind of attack which can have such a devastating effect on the finances and day-to-day running of the club.
Clubs are usually left unattended overnight and the stored equipment, fixtures and fittings and stock make for a very tempting target - particularly as we are now heading into winter and prolonged hours of darkness.
Only recently the football and cricket clubs in Ludlow were targeted in raids which caused extensive damage to property and resulted in the theft of several charity boxes. And it's not just sports clubs that are affected, there was a case earlier in the summer about several thousands of pounds worth of cycles being stolen from a shop in Bridgnorth.
There are many other examples nationally of sports clubs having to come to terms with damage and theft that can easily threaten their very existence, so we would urge anyone connected with sports clubs to review their security and take steps to upgrade wherever possible.
It doesn't matter how good your security arrangements are we always believe there is always something else you can do.
Wrekin Riders BMX club at Dawley is a classic case of being more proactive with security. They were targeted twice in a little over one year and called us in to help tighten up their security. We were able to advise and supply container and gate locks which are simple but effective measures to help keep the thieves at bay.
Sadly they were targeted again recently but the containers with the Bulldog locks were left alone and they didn't even entertain the gate lock.
Our members of staff can visit your site to see where you need security and avise what products are best for you.
We supply an extensive range of door locks, security posts, anti-ram barriers, security lighting, bike locks, roller shutters and security chains - so if you are feeling a little uneasy about the security arrangements at your club, give us a call for advice on 01952 728171 or email sales@bulldogsecure.com